Here we are at week 3! Â This week is a water theme. Â The poll will be open until Friday @ 9pm MST.
Craft #1 – Surfboard Towel Rack – Cheri
This crowning jewel of this deep sea bathroom is a surfboard towel rack.  It's made from scratch, but given a vintage look.  Rather than a surfboard company name painted on, it features the last name of the family it was made for.  While the little guy whose bathroom this is will be practicing his surfing moves in the mirror, the towels will stay clean and dry.
Surf's up dude!
Craft #2 – Zippy Flip Flops & Beach Bag – Natalia & Whitnee
I love spending time at the pool so what better way to do it then in style! These Zippity Flip Flops are darling for girls from mom to teen to little girls! The coordinating bag is the perfect summer accessory!
Craft #3 – Under the Sea Silk Canopy – Carrie
Under the Sea Silk Canopy
We live in the mountains of colorado. We have beautiful rivers, mountains,and trees… but we long to be near the ocean. This weeks theme of water inspired me to bring the OCEAN to the MOUNTAINS!
I made this silk Under The Sea Play Canopy.
It gives us a dreamy place to study sea creatures…
And to Dance…
Craft #4 – Beach Memory Box – Heidi
Taking a trip to the beach can be a lot of fun.
When ever our family goes, our children love to collection shell and other little fun finds.
For this round I took all our little cherished finds and placed them lovingly into a shadow box.


This gets them "out of a box" and into their own home.
To dress up the shells a little more, I added in a few scrapbook supplies.


It now sits nicely on our book shelf and my heart is full.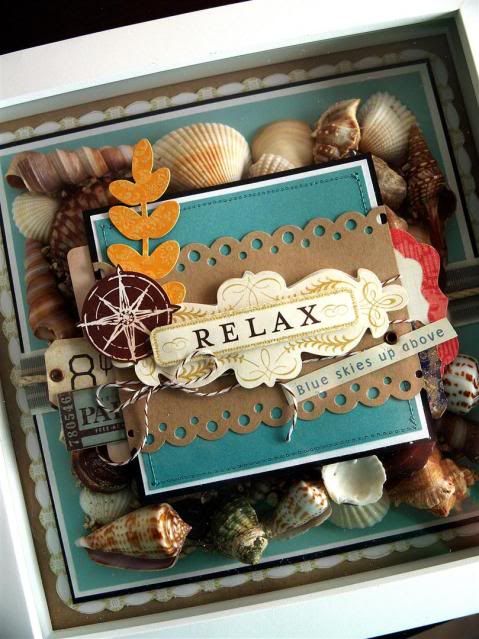 Craft #5 – Sea Side Table Scape – Mary Beth
The ocean evokes so many emotions in me and is my ultimate sanctuary.  I love all the sights, sounds and smells (except for low tide of course –Pee-Yew!)  I wanted to try to capture that in this week's challenge.  To me the ocean is peaceful, fresh, natural and life always seems a little simpler there.   My goal was to showcase some of my favorite photos and the new treasures I from our summer trip to Cape Cod, MA.   So, I created a Sea Side Tablescape.  The main project is my eclectic little frames, but I couldn't stop myself and had to create a whole vignette, sailboat included!  I wanted the frames to have texture and a classic, clean/simple look.  I searched my house with the intent to "Use What I Have".     I had my "A-HA Moments" and found random objects that I thought just might work and went to town.  The hard part was finding a way to make it so everything could be changed out easily for the seasons… and By George I Think I Got It with some clever little solutions!  You'll have to wait for a tutorial to find out how.  In the meantime, I hope you all get to escape to the beach to soak up the sights and sounds like I did.  Happy Summer!
Craft #6 – Sudden Showers Set – Emilie
When I was growing up I wondered why anyone would ever need to buy a raincoat. Then I moved with my family 2,000 miles away and realized quite quickly that, not only do you absolutely need a raincoat, but you also need an emergency back-up plan!
In our area, sudden downpours appear out of nowhere and last for a few hours, drenching everything around us. Many times we were out an about and a sudden shower would hit, leaving us running errands and getting soaked while our raincoats hung at home in our front hall closet.
When this week's theme was "Water" I realized I could fix this problem. I bought a simple shower curtain from Wal*Mart (for $10.88) and made two complete sets of rain gear which can be stored easily in our car for those unexpected showers.
Each set includes a poncho, hat with petal brim and easy storage bag. And because there is a variety of shower curtain patterns out there, you can make these very feminine (like mine), masculine or unisex…whichever best fits your needs.

So when Sudden Showers threaten to ruin your day, reach into your glove box and grab this quick and easy solution.
*please note that my adorable model had a much larger head than my actual child, so the petal detail of the hat's brim was a bit lost. It is very cute and looks like a flower when on the appropriate sized head.

Craft #7 – Peekaboo Shower Curtain – Kim
Are you ever in the shower…and you can hear someone in the bathroom
(I had to sit down and explain what privacy was to my kids) But when
you pull the shower curtain aside to see who is the culprit–you get
water all over the floor? (okay, maybe it's not that big of a deal)
BUT how easy would it be to just look through your shower curtain.
introducing the Peekabo Shower Curtain (100% hand painted onto a clear
plastic shower curtain.)
See out without people seeing in
Two lookouts in case you are "conserving water" and showering with a
companion.
and an Octopus peekhole for when you are taking a bath
Never be sneaked up on again.
Craft #8 – Fishy Backpack – Vanessa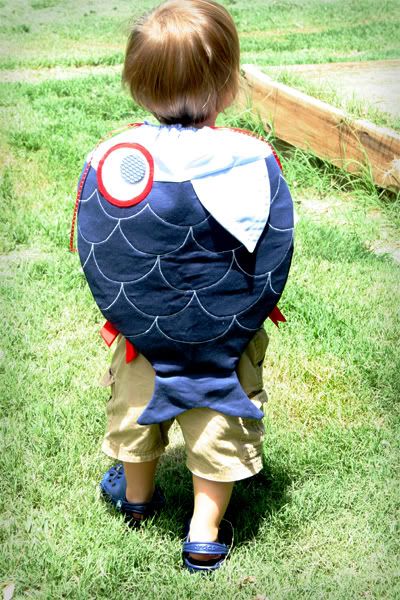 Whether you're visiting the beach or relaxing by the pool, kids need
"stuff" and lots of it! Flops, bathing suit, goggles, sunscreen, snacks,
water toys, towel, more snacks. Mom will of course be bringing an
extremely large beach bag but why not promote your child's growing
independence by allowing him to carry some of his own things. Your back
will thank you!
100% washable and lined with water-resistant PUL, the Fishy Backpack can
withstand wet bathing suits, sandy Crocs and the occasional sea creature
stowaway. Time to go to the beach!