Did you guys have a good weekend?  I had a good night on Saturday.  We had some friends over for dinner.  We stayed up way too late playing Ticket to Ride Europe.  Have you guys ever played that?  It's pretty awesome. While we were busy playing and before we put them to bed, the kids enjoyed a viewing of Brave.  I love when little kids kick their legs up  like  that 🙂
But now it's time to show you all the amazing  Upcycle projects  the crafters have come up with.  This is another favorite theme and they sure didn't disappoint.  And you thought last week was a hard week to decide on a favorite 🙂
The poll, as always, is in the sidebar and will be open until Thursday night.  Get your vote in early and spread the word!
Craft #1 – Portable Picnic Table with Case –  Christy @  Inklings & Yarns
I had a rough time with this week's theme. I spent weeks scouring
thrift stores and racking my brain, and could not, for the life of me,
figure out what to make. By last Monday morning I was panicked, and
started mentally cataloging everything in my house for its craft
potential. Finally I remembered the old, ugly wooden blinds that came
with our house. Taking them down and shoving them into a back corner
of the garage was one of the first things we did. I started thinking
of all the ways I could use those wooden slats…doll bench, magazine
rack, table…and then it came to me.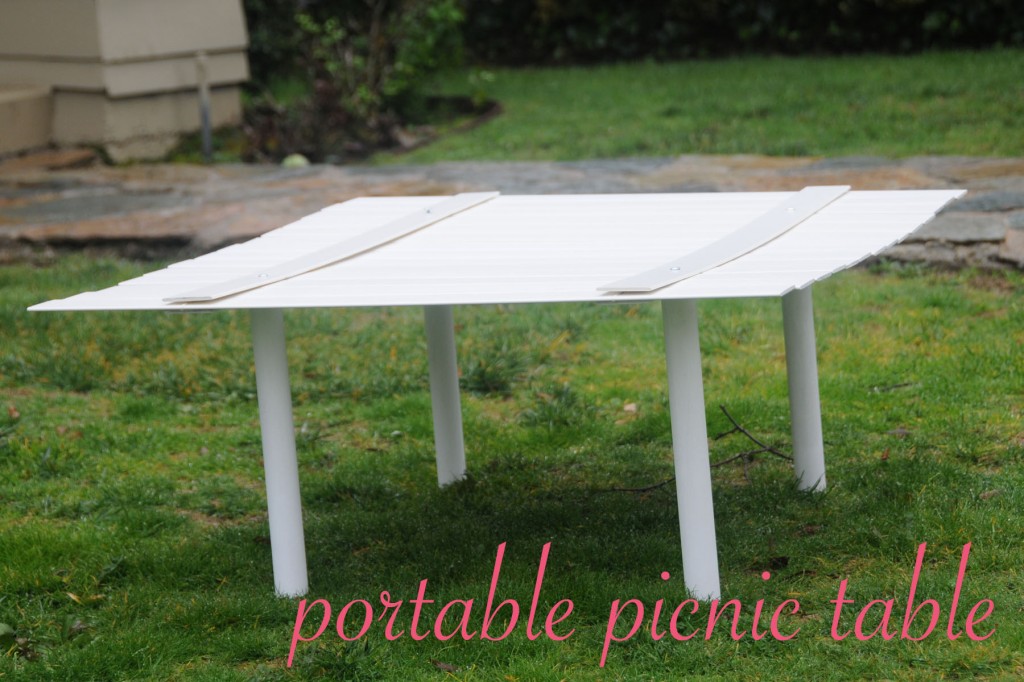 Years ago I fell in love with a roll-up picnic table from Crate and
Barrel, but never could justify buying it. Now suddenly I had all the
materials to make it right there in the back corner of my garage! I
immediately tore the blinds apart and started constructing my table.
With some twine, a dowel cut into 4 pieces, a drill and 4 screws, I
had my little picnic table ready to go. It assembles in about 5
minutes, and rolls up smaller than a camping chair.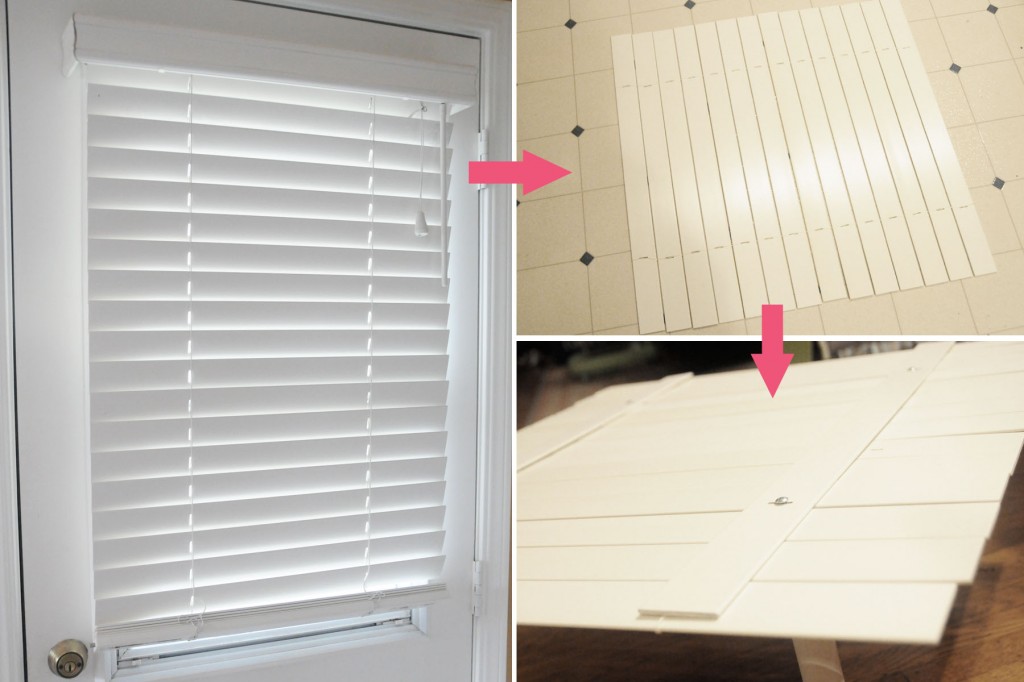 But wait, you can't carry a rolled up table top and a bunch of loose
dowels on a picnic. This table needed a handy dandy carrying case.
Lucky for me, in another corner of the garage sat an old, beat up set
of luggage that even the garbage man wouldn't take. I cut the canvas
off the backs of the two suitcases, and sewed a nice sturdy bag. I
even made a strap for it out of some extra webbing from the luggage
set.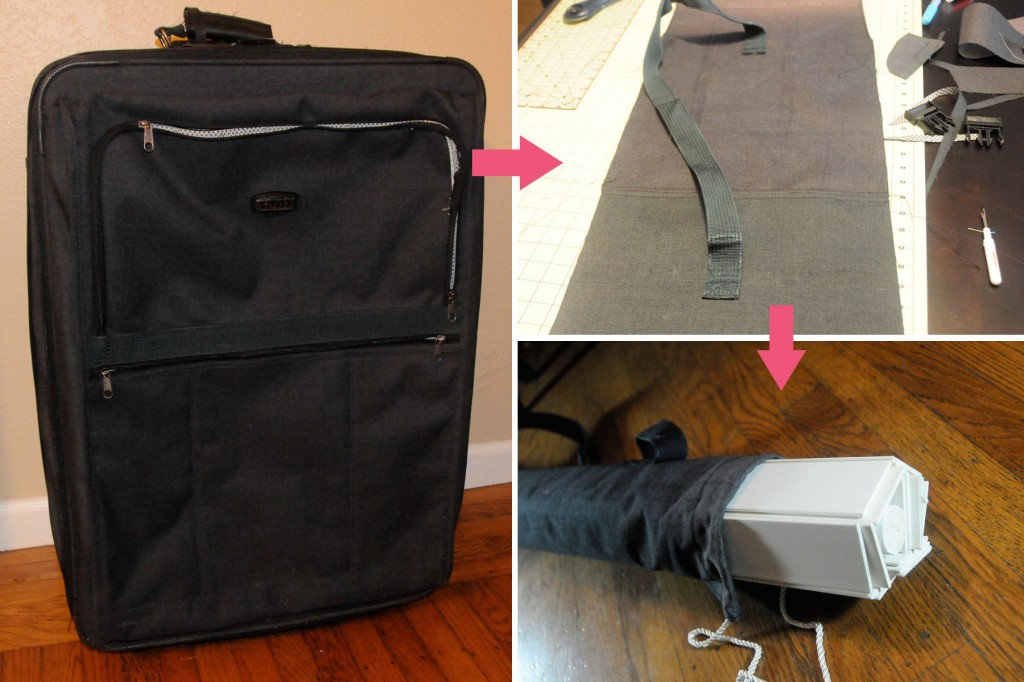 Unfortunately for me, the weather decided to turn extra cold and wet
the day I finished it and there are no signs of it letting up. Now I
have even more reason to look forward to warmer weather.
Craft #2 – Upcycled Wall Mounted TV Case –  Catherine @  CathGrace
Up until a couple of years ago I never had a TV in my bedroom, (I was actually super anti having one in there, because I didn't want to stay up later then I should, and I was sure I would get caught up watching something and lose hours of sleep over it, and I was ALREADY a terrible insomniac!) I have since discovered that I actually sleep better with a TV playing quietly in the background while I fall asleep, and so I caved and put one in our bedroom; the only trouble is, I don't like how it looks on the wall, it's not very pretty and it's taking up valuable art space (we don't have very much wall space in our current bedroom, it's mostly a window, doors, and closet doors.) So when thinking of what to upcycle, I knew I wanted to make a cover for our bedroom TV!
(sorry, it was hard to get a picture that didn't have my reflection in the glass! and I had to crop it close so the rest of my bedroom didn't show and giveaway who I was!) I used 2  barn-wood  frames from Hobby Lobby for the doors, and then I cut and soldered picture frame glass into leaded glass panels that I then silver leafed the back of, to make the door fronts. I made the box that holds everything together out of a pallet I was given by a friend.
The whole case is painted black, and then sanded back and stained in a walnut color for an antiqued finish. I painted the back of the glass black rather than adding panels behind the glass because I wanted to keep the doors as light weight as possible, but didn't want the silver reflection on the TV at night. I love the texture that the barn wood frames, and the pallet add, it looks like a fantastic old piece with antique mirrors! I priced wall mounted TV covers from several of the nicer furniture stores (Pottery Barn, West Elm, etc.) and they were HUNDREDS of dollars! With all the things I needed to finish this TV cover, (the frames, hinges, silver leaf, magnetic door catches, the glass, etc.) I was at a little less then $105, which I thought was AWESOME!
I really hope you like my upcycled craft, and that I earned your vote because I am excited to share my tutorial!!!
Craft #3 – Lego/Car Table –  Valerie @  Occasionally Crafty
Thanks for your votes, everyone!  I'm happy to be back for "Upcycle" week.
Several years ago, we bought the IKEA Latt Table/Chair set for our daughter.  Two more kids and a handful of years later,  it's sure gotten its fair share of use and more!  This thing was in rough shape!  A lot of people would throw this to the curb.  After all, IKEA furniture isn't exactly expensive or top-quality.  I think it cost us $20 and it's been worth every penny.
But, I knew with a little love, I could take this table that looked ready for the trash and make it into something brand new.
I had to do some tightening of the bolts and a lot of cleaning.  It's amazing how just that made a difference!  But I didn't stop there.  A few coats of red spray paint made it ready for my boys' vintage baseball room.
Now, my son is HUGE into Legos, so of course a Lego baseplate was a must.  But what to do with the rest of the table?  I didn't want to mix and match plates, so my son and I decided to make the extra space into roadways for his cars.  Here's his design, and I quote:  "Let's put the Lego plate in the middle, and make some lanes over on the sides, but don't do anything at the top and bottoms so the cars can do some tricks!"
It might not be the design I would've chosen, but I have to admit, it turned out looking pretty great!  The paint is a black enamel paint, and the lane dividers are permanent vinyl that I cut with my Silhouette.  I finished off by cutting out my oldest son's name in Lego font for a fun personal touch.
My two Lego-loving, Hot Wheel-obsessed boys will love playing with this for (hopefully) many more years to come!
Craft #4 – Portable Paper Doll Palace –  Amber @  Mule 'n Nag Crafts
Anyone else have a daughter out there who absolutely adores princesses?   Like, has the songs memorized and replays the movie with her little dolls?   And… shes only three.   While out shopping and browsing the books section, my little princess was introduced to the wonderful world of Paper Dolls.
I remember playing with paper dolls as a little girl and I was so excited to start the same fun with my daughter.   I told her she could get them next time we went on a trip… and then I remembered she was three.   I had visions of paper doll massacres at the hand of my precocious girl and then the break-down that would ensue from the inability to repair the damage.
So, the paper dolls waited until a day I could figure out how to three-year-old proof them.   This is how my "Upcycle" idea was born.
Paper Dolls + Plastic School Folder + Cardboard + Felt/Fabric =
Okay, I know it's not really a palace, but I like the alliteration. 🙂
I used my trusty glue gun to create the folder and playmat, then added an elastic around the outside to keep it closed.
And, how, do you ask, did I make the paper dolls durable?   One word:   Lamination.   I laminated all SIX princesses (and each of their little dresses and accessories).
Then, I added velcro to the back of each piece and on the princess, so they stay together without the pesky tabs.   The princess even has velcro on the back, so she stays on the play mat.
Now my princess can play with her paper dolls happily ever after. 😉
Craft #5 -Card Catalog Coffee Table with Printing Block Display Top and Bobbin Legs –  Amelia @  The Night Garden