Craft #1 – What's Up Weekly Board
Have you ever tried to tell a 2 year old when something is going to happen?  It might go something like this:
You: We're going to see grampa and gramma on Sunday!
Child: We're going to see them now?
You: No, in two more days.
Child: Tomorrow?
You: No, you have to wake up two more times.
Child: After my nap?
You get the picture.  Well, this project is aimed at helping a little one understand when.
This magentic board shows the days of the week.
There are small magnets featuring all the things that might go on in the week.
The big star can be moved to mark the current day.
The little stars can be used to track daily chores accomplished.
The pocket below can store any unused magnets.
Now you can explain a little more clearly when things will happen and now your little one has something to look foward to.
The full tutorial includes all the hand-drawn images in a free downloadable PDF file.
Craft #2 – Birthday Countdown Calender
We love counting down to the holidays at our house. Especially for BIRTHDAYS!
The anticipation leading up to the event is half of the fun!
Instead of having an overwhelming one day event we spread out the birthday fun for the entire WEEK!
I made this calendar out of wool felt and embellished it with buttons and appliqued birthday images.
It has 8 pockets… One for each day of the week leading up to the birthday and one pocket for the big day itself! A pocket could reveal a small gift~ a gem or little doll, while another has a card with a special activity written on it~ like going out for ice cream… other pockets holds little treats, and the final pocket holds the 1st clue for a treasure hunt that leads the child to find their birthday crown!
We have many traditions surrounding birthdays.
Simple things that mark the occasion are much more special than a huge party and a pile of presents. My children look forward every year to receiving a new birthday crown, lighting their candles, and especially to seeing what their Birthday Countdown Calendar holds for them!
Craft #3 – Timely Teachers Gift
Yes, school is just beginning in our part of the country, but how great would it be to use back-to-school sale items to make this great Teacher's Gift ahead of time?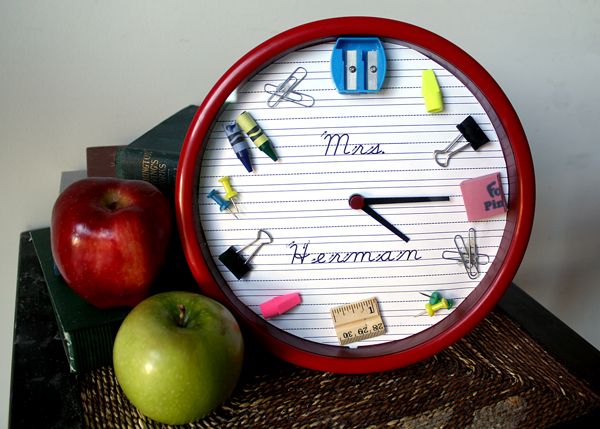 Finish this cute, personalized gift in under an hour, wrap it up and store it away until the end of the school year. Then, when the approaching Summer madness begins to set in, you don't have to worry about getting a special gift for your child's teacher. And don't fret…the personalization is easier than you think!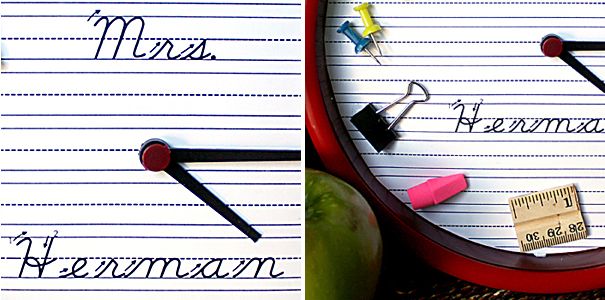 With sales and great bargains, this clock was made for around $10 and it will be sure to be a standout among the gift cards and pencil boxes that teachers always receive!