*Tutorial made by Melissa @ Sew Like My Mom for her win of the Thrift Store challenge*
So, I totally didn't expect to win the first week of SYTYC! Thank you again to everyone who voted for my DIY child's window seat! I didn't take pictures as I went along, so I'll share what I have and explain the rest the best I can. If you need more help, please let me know!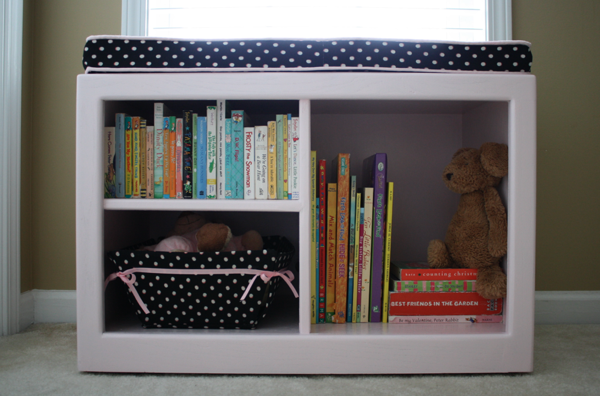 I started with my bare, empty tv stand.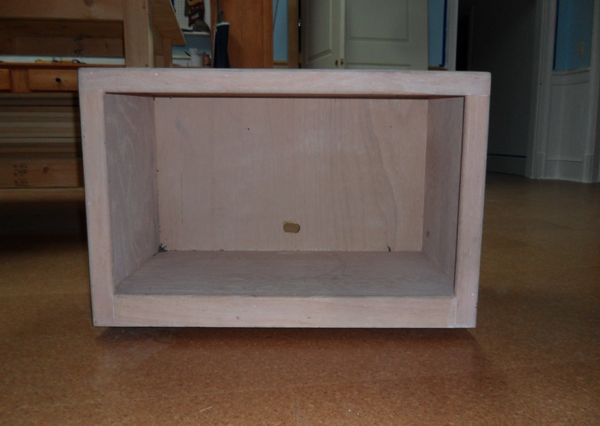 My super amazing Dad helped me add the shelves. One vertical, splitting the tv stand in two, then one horizontal creating 2 shelves.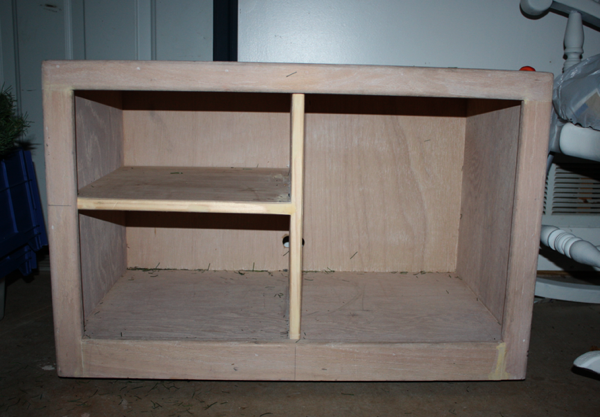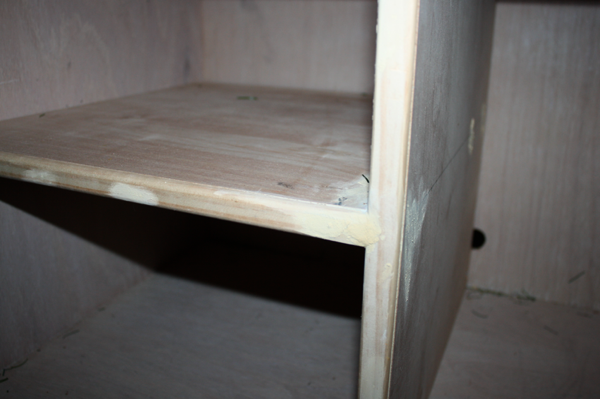 Then I sanded and painted it. I don't have a post paint picture before I made the cushion and basket.
To make the cushion, I measured the top of the seat, subtracted 1 inch from the length and width, and cut 1 pieces of 1″ foam to that size. Using spray adhesive, I glued them together. Then to make the cover, I winged it! I cut a top and bottom piece the size of the foam, plus a 1/4″ seam allowance all the way around. I cut a 2.5″ strip the length of the entire perimeter of the cushion, then making it up as I went along, I sewed the top to the side, sandwiching my piping inbetween. Then I did the same for the bottom piece, and left an 8″ hole to stuff the cushion inside. Once the cushion was flat inside, I whipstitched the hole closed.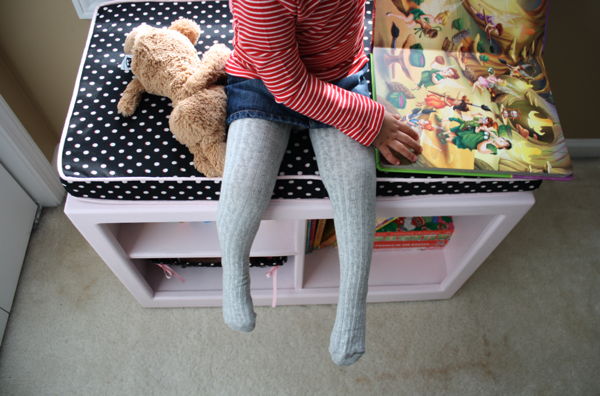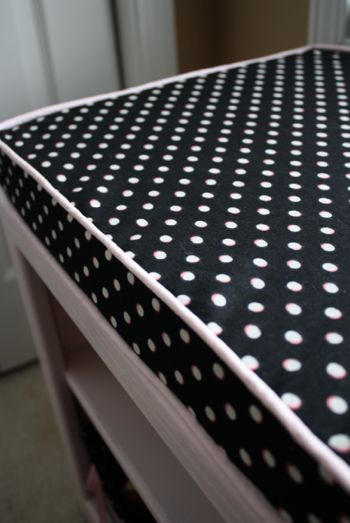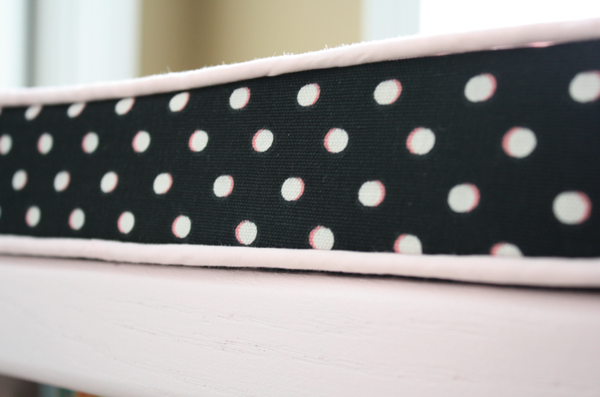 To make the basket, I measured the size of the hole, subtracted 2 inches from each side, and made that my top width measurements. I came in 2 inches from each side, and created trapezoid shapes. I cut 2 long sides, 2 short sides, and 1 bottom out of medium weight fusible interfacing.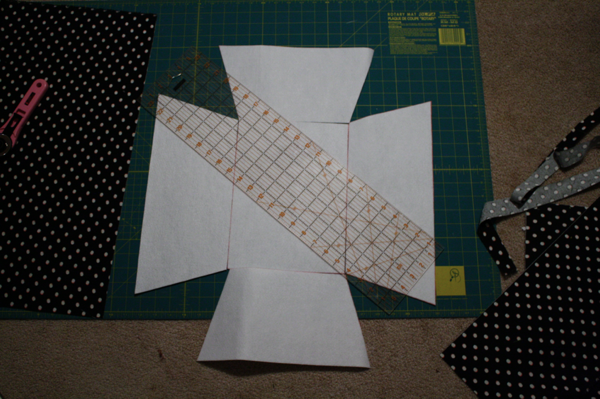 Then I cut 2 of each side and 2 of the bottom from my fabric. I ironed the interfacing to the wrong side of one of each of the side pieces and the bottom piece. Then I sewed, right sides together, the short sides and top of each of the 4 basket side pieces, leaving the bottoms open.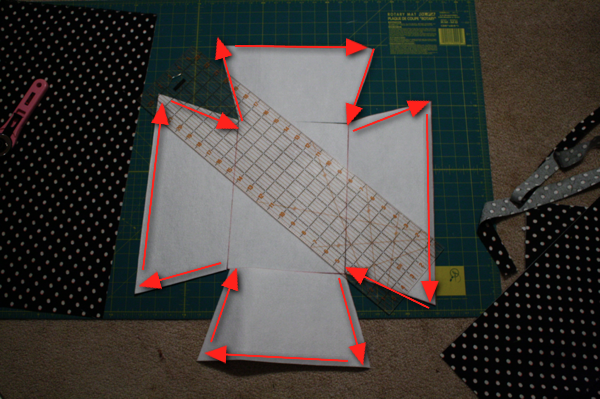 I turned them right sides out, and sewed them to the base.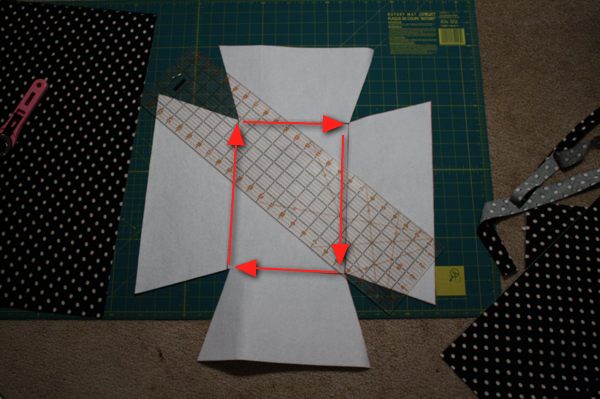 Then I took the bottom piece of the base, tucked the side flaps in, and with right sides together, sewed around the perimeter of the basket, leaving a hole to turn it. Then I stitched the hole closed.
Once fully sewn and assembled, I too pieces of ribbon twice as long as the particular side, measured down 2″ from the top of the side, and ran a strip of Aleene's glue starting and ending 1″ from the edge. I glued each ribbon down, and once dry, I tied them together.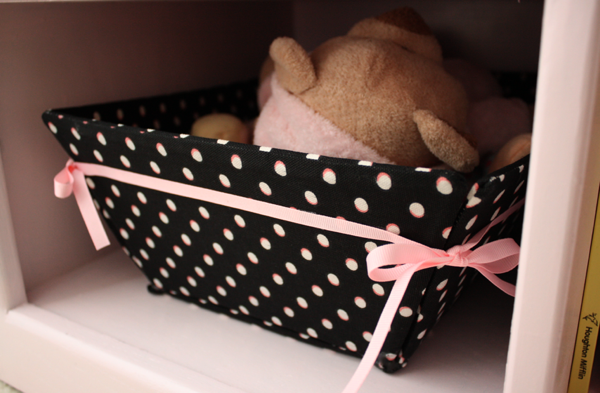 I know that's a crummy tutorial, and I promise I'll remake the basket once the competition is over!