So here we are at the auditions for the next season. Â It won't be starting until the new year, but I didn't want to wait to do the auditions. Â I just love them too much 🙂
Here are the lovely ladies trying their hand this season:
Amber @ Mule 'n Nag Crafts
Amelia @ The Night Garden
Camille @ Sugar Baby Boutique
Catherine @ CathGrace
Christy @ Inklings & Yarns
Cecilia @ Creare Scout
Ginger @ Gingerly Made
Ginger @ Ginger Snap Crafts
Janel @ Nellie Bellie
Kim @ Maiden D'Shade
Loren @ Pandora's Craft Box
Nathalie @ Doodle Craft
Valerie & Laura @ Occasionally Crafty
The poll is in the sidebar and will be open until Friday night. Â The 10 ladies with the most votes when the poll closes will be the official crafters of season 14. Â So make sure you vote for your favorite soon and send your friends to come join the fun too!
If you would like to try your hand at a season of SYTYC just send me  an email atsoyouthinkyourecrafty@gmail.com with a link to your blog.  If I think you're a good fit for the contest I'll put your name on the current waiting list!
Craft #1 – Shut the Front Door
Shut the Front Door!!!
Awesome right?
This project was done in 4 hours (including drying time)
with stuff I had laying around the house!
And now, the perfect front porch sign that says it all!
I reclaimed some distressed wood from an old fence…
A wooden frame from some old cabinet fronts the neighbors ripped out…
And a fancy faux doorknob that arrived in a surprise package…
as well as aqua paint (who can resist?), screws and glue.
STFD and vote for me! Â 🙂
Craft #2 – Pencil Holder Toaster
Why Hello!! So glad you are here!
I'm just a wee bit excited about this project. Just a wee.
See, I made a toaster. Okay, not a working toaster with electricity and such.
No, a colored pencil holder toaster!
I know…right! How cool is that!
You want to see???
Well, I'm just busting at the seams to show you. So, here ya go…
And here it is in "working mode"…
And, just because I am showing off, here is a collage…
This toaster's base was crafted from wood to make it sturdy.
I wrapped it in cork so that you can pin notes and such to it (and because it looks cool!)
The "handles" are knobs painted in a fabulous yellow.
The mechanism works properly because I added slotted pieces inside the toaster. Don't ask me how…I just did.
The temperature knob is a large washer and bottle cap.
And the yellow trim…duct tape of course!
This craft was alot of fun to make and of course to use!!
I mean…it's a toaster pencil holder!!!
Craft #3 – Nautical Purse
I am so excited to be auditioning for So You Think You're Crafty. I think this is a great forum to sharpen crafty skills and get some inspiration too. So thanks Missy for the chance to be apart of what you do here!
Awhile ago, I found a ton of amazing fabrics at an estate sale. I took home a trash bag full for only $5! In that stash was this piece of navy striped canvas fabric. I love stripes and I love the nautical trend that's happening right now! And this fabric instantly spoke nautical purse to me. The lady had already sewn it into a pillow case shape. I just had to trim off the top to make it the right size. Whoo hoo!
Also in the estate sale stash was a denim-like fabric that match the navy stripes perfectly. I used it to construct the interior, handles, and anchor applique. Can you tell from the pictures that the applique is the backside of the fabric? That was on purpose. I just liked the look of it better in reverse. I thought the right side of the fabric so close to the handles was just a little too much of the solid navy color. Using the back side of the fabric gives it just enough variety but still flows with the color scheme.
Inside, I made a zippered pouch from the top of the 'pillow case' I had previously cut off. Because the zipper wasn't on a seam, I had to cut a hole in the fabric the size of the zipper and then stitch around. Putting in a zipper this way was totally new to me, but once I got the concept down, it went pretty easily. And finally it snaps shut with a magnetic snap. I love how this purse turned out!
Craft #4 – Blessing Board
Life is beautiful. Â Despite all the challenges I've faced in my life, I know that I have everything I need and more. Â  Â The project I chose to make helps me keep a reminder of those blessings up close and personal all year round, though it certainly helps add to my family's fall/Thanksgiving decor.
I know what you're thinking– subway art. Â I've never seen that before! Â (Said no "crafter", ever!) Â However, two things make this a special project, and one I hope you'll vote for. Â First of all, I made this really inexpensively. Â The whole project, including all supplies, cost less that $10. Â I helped save money by using adhesive contact paper (like the kind you line your shelves with) for a stencil. Â I designed the layout of the words using my Silhouette, then ran the contact paper through the machine just like vinyl. Â I adhered the words to a painted wooded plaque (painted vanilla, since that's what I wanted my text to be). Â Then I painted over the letters with my brown paint, let it dry, and peeled off the contact paper for a hand-painted look.
The second thing that makes this subway art special is the fact that it's personal. Â You are probably grateful for many of the same things I am- but, you probably have some different ones as well. Â These things are specific to my family, and speak to the things we've learned to appreciate more through each experience and challenge along the way.
There's nothing I love more than a fun project that also means something.  My Stenciled Blessings Plaque is both for me, and I hope for you too! 
Craft #5 – 4×4 Luminaries
All you need are some 4×4 post blocks, a drill, vinyl lettering, ribbon, paint, sand paper & some tea light candles. I found the cute clip art for my vinyl in the Silhouette online store! You just use a drill to make a spot for your candle to sit.  Sand, paint and let your blocks dry, & then you'll apply your vinyl lettering.  You'll tie a ribbon around the top!  Then stick your candle in it's spot. That's it!
I think they turned out so cute! Perfect for Thanksgiving! I really would appreciate YOUR vote! Best of luck to the other contestants!
Craft #6 – DIY Bike Tube Bracelet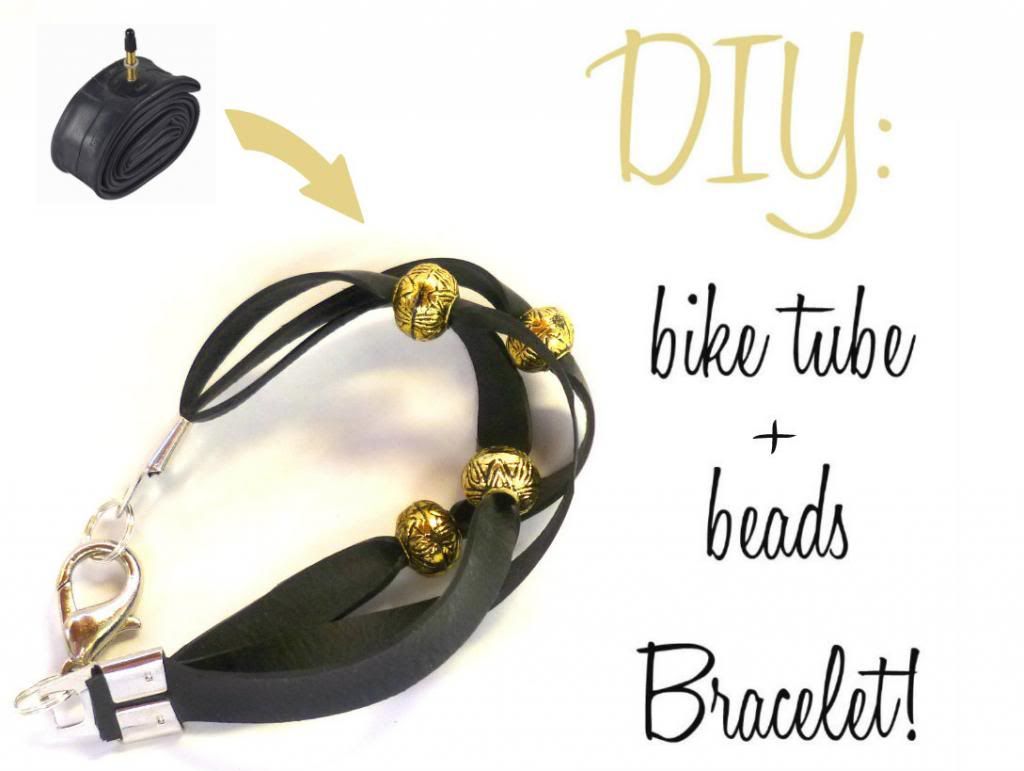 I am so excided to take part in the auditions for So You Think You are Crafty! It's a contest I've been following for quite some time now… and I am (almost) ready to rock it! 🙂
I love recycling and using materials from the trashbin for my creations. This summer I changed my bike's inner tube and thought…. "interesting! I must make good use of this black treasure! :)"
So for the auditions I will present you my favourite bracelet (I know how we all love unique jewelry) that I made using an old bike tube. It was cheap and very easy to make.
You can obtain many different styles, depending on which beads you choose and how thin the bike tube strips are… I believe it' s a lot of fun for a girl's craft party!! 🙂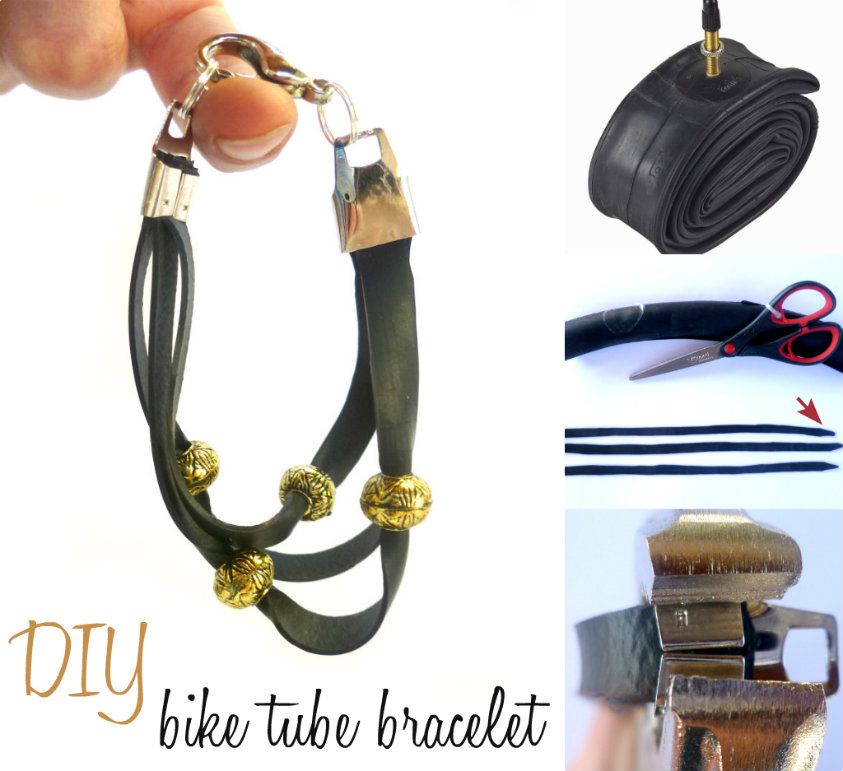 I have been using this bracelet A LOT, I love its rock star look 🙂
I hope you guys like the idea and the pictures… see you next time on SYTYC 🙂
Craft #7 – A Fence for All Reasons
I'm so excited to be auditioning for season 14! I feel really honored and nervous, too! For my audition craft, I wanted to challenge myself and do something on a larger scale than I would normally do. And use power tools. By myself. It took me a couple weeks to come up with an idea and I decided on something that would come in handy around my home now that the weather is cooling down (boo!) and Christmas is coming (yay!). I did check online to see if anyone else had already made one. I didn't see that anyone had, at least not in my searches and not like what I had envisioned, so I went with it!
I wanted it to look like a section of an old fence. I painted the board white first then sanded it down. Then I tried rust and tea staining for the first time. It's pretty cool!
Then I built my fence. Yes, I did all of this in my living room (except the miter saw is in the garage). Hey, it was really cold outside. Anyway, I figured it was no less messy than some of the home improvements we've done. And I could watch movies at the same time! 🙂
It was an easier and faster project than I thought it would be. Which is always a good thing 🙂
Craft #8 – Vintage Door Sign
Craft #9 – Advent Calendar Quilt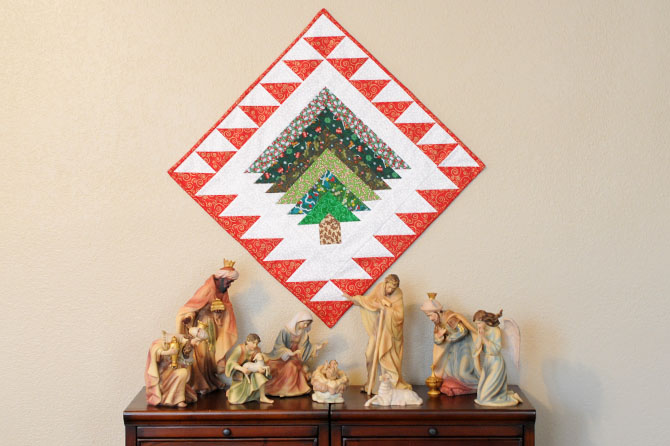 Christmas Crafting Season is in full swing, and this year I'm
especially focused on family traditions. This year we celebrate our
daughter's first Christmas, and I can't wait to share some of my
favorite holiday memories with her. One of my favorite decorations
growing up was a quilted wall hanging my mother made when I was a
child, so I decided to recreate it. The border is comprised of 24
pockets that each hold one small ornament, and the center is a bare
tree just waiting to be decorated. Starting on December 1st, you
remove one ornament a day to hang on the tree. By Christmas Eve, the
tree is fully decorated and it's time to celebrate!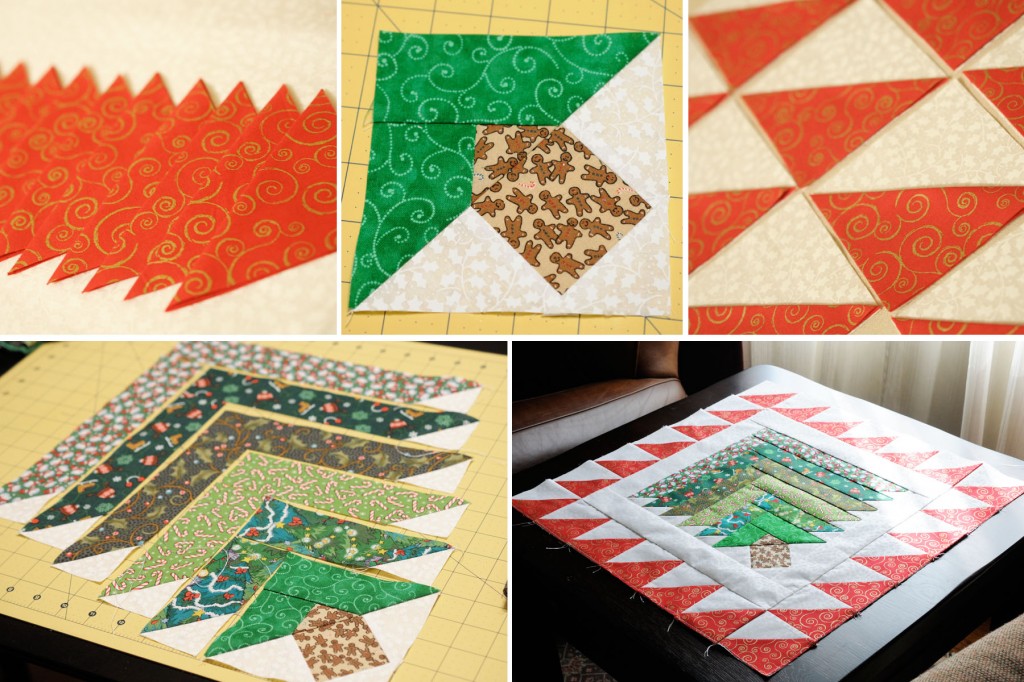 To piece the quilt I started with the pocket squares. Each is made
with a folded square of red fabric basted to a square of white fabric.
I then sewed them into strips and put them aside. I started the tree
at the base, making a square out of the trunk and first set of
branches. Then I added 5 more rows of branches in a modified log cabin
pattern. To make the ornaments, I found some adorable Christmas-themed
buttons that fit the whimsical style of the fabrics I chose. I added
tie tack pins to the backs of them so they pin easily through the
quilt fabric.
I have such fond memories of decorating this little tree as a child,
and even though the baby isn't quite old enough to do it herself yet,
I can't wait to see her excitement as we add each day's new ornament.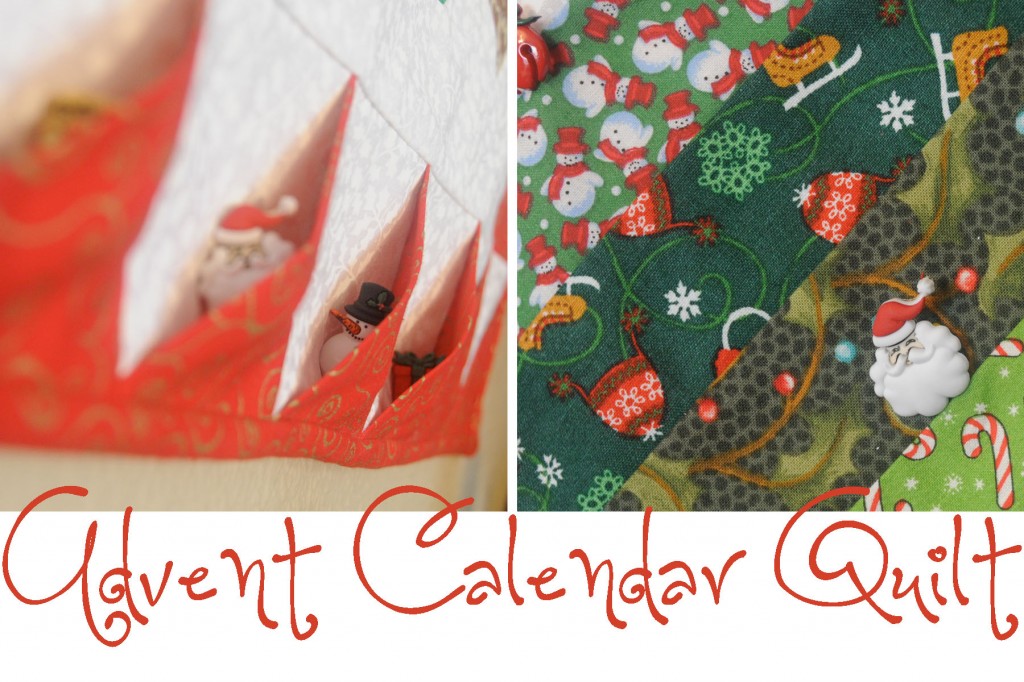 Craft #10 – Reading Nook Stage
Craft #11 – Clip-tastic Carrying Case
Hello SYTYC readers.  I'm BEYOND excited to be with you today.  I've followed Missy and SYTYC since the first season and I'm honored to be considered one of the contestants for Season 14.  My inner fan-girl is squealing with delight right now.
My audition project came out of a Mom need; small or big, something to make life go more smoothly.  My little girl is just like most girls— sweet, sassy and has LOTS of hair accessories.  Every morning, she loves to choose which clip/bow/flower to put in her hair (even though she may take it out an hour later).  Sometimes this process can take a while— especially when travelling and I have to fish the perfect clip from the bottom of a baggie.
Problem solved with this little beauty…
All it takes to make one is a little bit felt, ribbon, Velcro and cardboard, two snack-sized baggies and beginning sewing skills.  One side is a sectioned strip of felt to store clips.  The other side has two baggies for ponies, elastics, and larger flower clips.
Behind the baggies is one of my favorite parts of the holder… a hidden comb pocket (essential to completing hair-dos).  A Velcro closer at the end of the ribbon keeps all the accessories safe and sound.
Seriously LOVE this little holder.  I knew it was a hit when the time to do her hair was cut in half (hallelujah) and when she wanted to keep her clips in in all the time.  It's the simple things in life….
Craft #12 – Blog Post Calendar