Hey everybody! Â My little brother is being deployed this afternoon (go Army!) so I'll be a little busy today. Â I'll try to get the other post announcing the winners and such up later tonight! Â Enjoy!
Poll open until Friday, August 27 at 9pm MST.
Craft #1 – Recycled Scrabble Desk Set
I have a nerdy confession to make. I have always had an obsession with the game Scrabble. In fact, when I was in college I was an official National Scrabble Club member and President of our local chapter. We had weekly meetings where I gave tips and training sessions on such scintillating topics as two letter words and instances where one can use a "Q" without a "U".
(Post-It-Note holder shown here with Post-It's removed.)
So, it's safe to safe to say that Scrabble is in my blood. I recently picked up a vintage Scrabble game at our local Goodwill for $1.75 and was just waiting to put it to good use…we already own 4 other versions of the game.


And this Recycled Scrabble Desk Set was born. Using the tiles I was able to make a pencil cup and a tilted post-it-note holder. With a few more tiles and a tile rack I made a handy business card holder. I then cut the game board itself, filled it with notebook paper and bound it into a memo book.
Now my passion for words and all things Scrabble can be satisfied every day of the week…no spelling skills required.
Craft #2 – Mid-Century Toddler Chair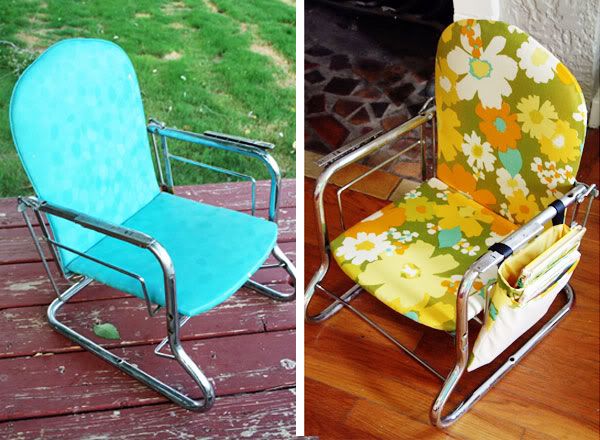 I am so thankful and lucky to have made it to this week's theme! Finally I
would have the proper motivation to reupholster the thrifted highchair I
found almost a year ago.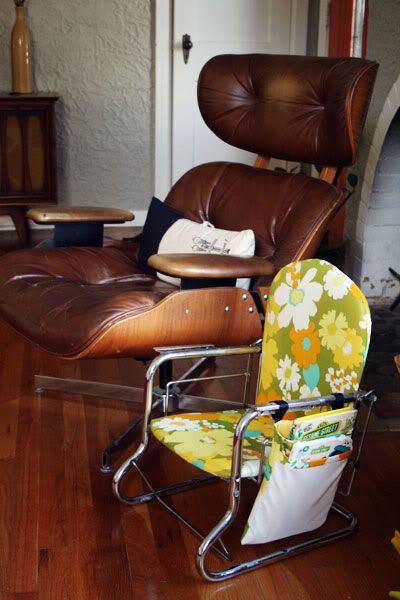 I saw the old thing sitting all alone in the corner of my favorite thift
store and even though it was pretty beat up (rusty and torn in places), I
could see what an amazing addition it would be to our attempted midcentury
modern living room!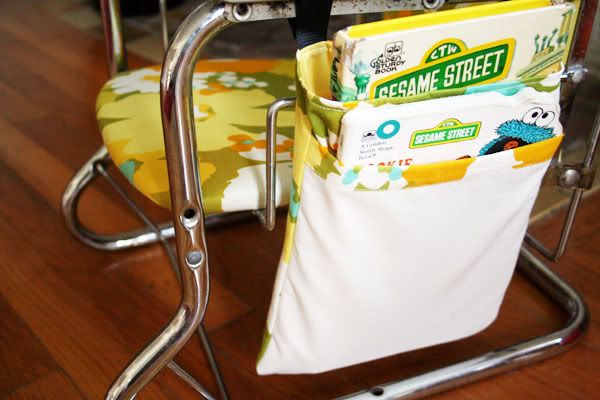 So this week's theme is kinda a win/win situation. Regardless of how the
voting turns out, I'm just super excited to be able to check off a project
on my ridiculously long to-do list. Thank you, SYTYC!
Craft #3 – Ruffle Scarf & Hat
I have a bit of a problem when it comes to clothes that my children have out grown. I can not seem to get rid of them.. I love to come up with new ways to refashion these old clothes.
Fall comes early in the Mountains, so I recycled some of our favorite t-shirts to make this Ruffle Scarf and Hat.
It is a stylish way to stay cozy in the cool mountain air!
Most of us don't fully understand the environmental impact of our clothes. From their production, to the materials that make them, all the way to transportation and washing, clothes can make quite a dent on the environment.
* Americans throw away more than 68 pounds of clothing and textiles per person per year.
* Polyester is made from petroleum in an energy intensive process that emits VOC's and acid gas into the air.
* Cotton is the most pesticide – dependant crop in the world. It takes 1/3 lb of pesticides to make ONE t-shirt.
Why not reduce your environmental impact by buying recycled clothes and recycling your own?
Its good for the earth and of course, … so fashionable!
Craft #4 – Little Boy Hats
A little over a year ago I started storing all the old worn-out clothing I had.  I love to re-use and transform items in that pile.  For this project I pulled out a bunch of old t-shirts and turned them into boy hats.  I love seeing little boys in hats.
I was able to utilize different parts of the shirts to make the hats more interesting…..button strips….
….and already existing graphics from the shirts.
Then I added a little messy-fun-boyish-look with some easy handstitching.
Depending on the t-shirts you use, this could totally be done in a girly way as well.  The hats were easy and fun to make.  So…..bring on autumn.  We're all ready!