*Tutorial by ChiWei @ One Dog Woof for her win of the Summer Bounty challenge for season 12*
Like the
Scrap Wood Lantern
, the brainstorming process for this project took quite a circuitous route. Â I was originally thinking about some summer placemats, but after Drew gave me a big THUMBS DOWN, I asked him for ideas, if he was so clever indeed. Â We also had to take into account that we were going to be on vacation that week, so I wouldn't have access to my usual assortment of sewing and crafting and woodworking supplies. Â My MIL gave us a spark of inspiration when she talked about handmade baskets in Williamsburg, and then Drew suggested that his dad cut me super thin slices of wood with which to weave a basket. Â Are you kidding me?! Â But then, I remembered the hot Pinterest pin of
making baskets out of paper
, and figured I can probably do it with fabric, so we went looking for the nearest Joann's store!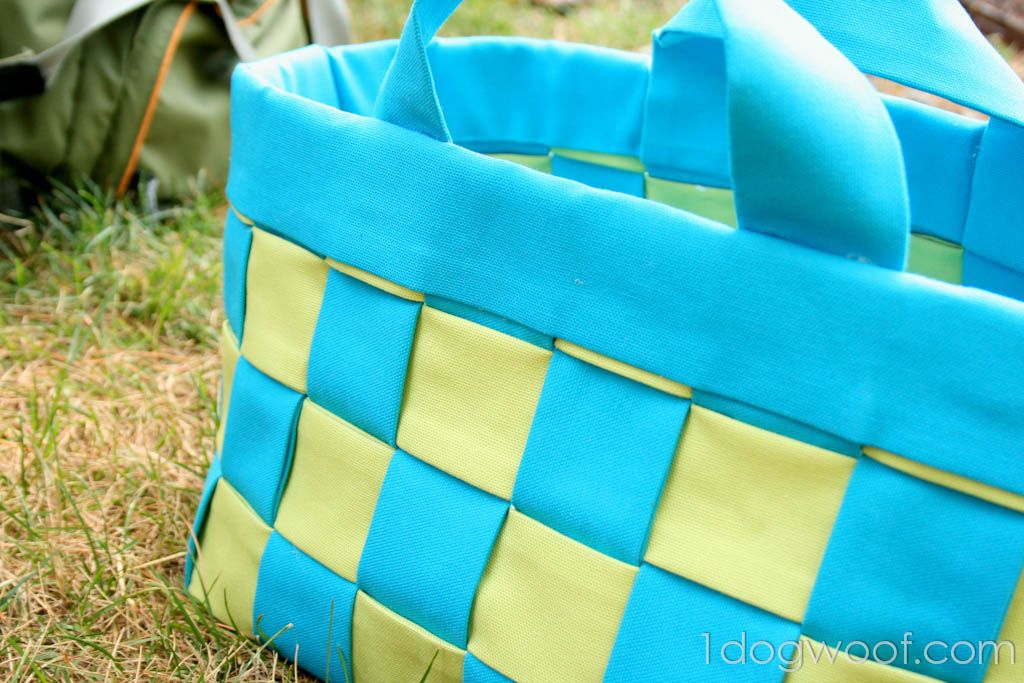 Materials:
2 yds of 60″ wide heavy duck canvas. Â I used 1 yd of each color.
2 rolls of 3/4″ hem tape.
iron.
scissors + t-square (or rotary cutter/mat/straight edge)
hot glue
Beware, there's some math involved.
I was lucky that my brother-in-law had a 4 foot dry wall T-square sitting around in his basement, so I used that to mark off my strips of fabric, the long way. Â So, for a yard of duck canvas (36″), I got 7 strips that were 5″ wide and 60″ long.
Fold each strip in half lengthwise, and fold in the rough edges lengthwise by 1/2″.
Iron your creases.
Follow the instructions for the hem tape to join the 2 hemmed edges together.
That whole spiel was to create 2″ hemmed strips of fabric. Â You could easily just sew it with a 1/2″ seam allowance and turn the whole thing inside out. Â Either way, you are creating 2″ strips out of your 5″ piece.
Lather, rinse, repeat for all your strips except one of each color.
(I have no pictures of the above because I was in the basement, ironing by the light of 1 light bulb, without realizing there were about 4 other fluorescent lights I could have turned on.)
Now you have a lot of long strips of fabric.  Decide which color you want to be the base of your basket.  Take 6 (out of 7) of those strips and cut in half to create 12 strips, now 2″ by 30″ long instead of the original 60″ long.  Leave the others as is.
Weave those shortened strips into a 6×4 pattern, which gives you a basket base of 12″ by 10″. Â Since your strips are 30″ long, you should have (30 – 12)/2 or 9″ leftover on each short side of the basket and (30 – 10)/2 or 10″ leftover on the long side of the basket. Â These leftovers will become the part of the walls of the basket. Â Glue the pieces in place to prevent movement.
Now grab a strip of the other color, hot glue the end to one of the blue upright pieces, and start weaving your walls around the base, gluing as you go. Â It sounds complicated, but it's just weaving. Â And since you're using fabric, you can manipulate is any way you need to in order to glue the pieces together. Â An extra hand may help.
(I ended up hanging the basket over the corner of the table in order to have a good gluing surface.)
You should be able to fit 4 full strips (8″) of your coordinating color to the basket and then have about an inch or 1 1/2″ leftover sticking out the top. Â Fold those rough edges down and glue them in place.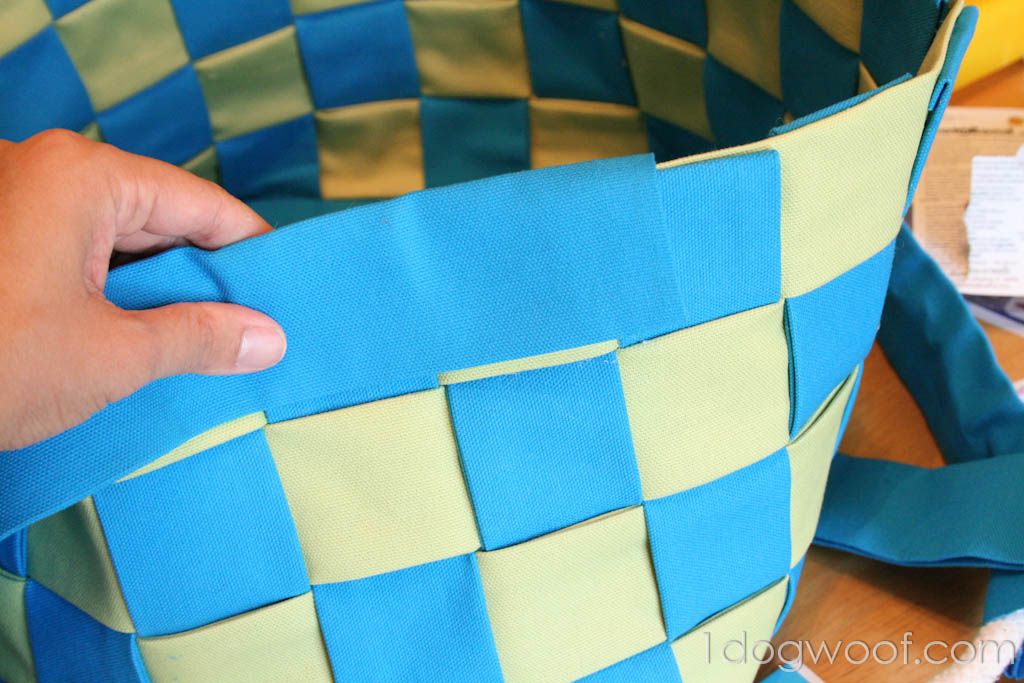 Then take one of your uncut, un-hemmed strips of fabric in the color of your choice and use that as the binding on the top of the basket. Â Glue glue glue.
To finish, grab some scraps of strips to make the handles. Â Try to tuck in the rough edges into the basket weave, and glue in place. Â Then you'll want to just go back around and add some dots of hot glue here and there to clean up any rough edges or seams.
That's it! Â Now you can stuff it full of stuff and go out and enjoy the season!