Little Abi and I are now back in Utah visiting family for a few weeks. Â We've been having a great time, but I didn't have my computer with me to put up the results post on Friday, so here are the results. You guys sure do like a tight race 🙂
And here is the crafter/project match up:
That makes Jessica our winner with her Childhood Cradle redo.
But we have to say goodbye to Ann Marie with week.
Isn't that Date Night Bucket List a great idea?!  Be sure to keep up with Ann Marie on her blog 
White House Black Shutters
 to see all her other great ideas!
So now on to our great Knock-Off crafts. Â The poll will be open until Thursday night so be sure to vote soon!
Craft #1 – Pottery Barn Knock-Off - Hannah @ Young & Crafty
This Pottery Barn knock off easily makes the top five favorite things I've ever made list. The PB version cost a whopping $399. Mine cost around $15. There is a little over 4 ft. x 4 ft. and mine is exactly 4 ft. x 4 ft. Let me just tell you this thing is massive!
It was actually really easy to make. I think I used every single piece of scrap wood we had. I used leftover pallets and any other scrap wood I could find. I love the colors of the PB version but I knew I wanted to change them to match our living room. All of the wood pieces are glued onto a piece of thin wood with wood glue and then we just screwed that sucker right into the wall!
Craft #2 -Trim The Tree Pillow Knock Off - Jamie @ Three Scoops of Love
For Knock Off Week, I found this cute Trim the Tree pillow when I was looking through the new holiday items at Land of Nod.  When I saw the name of the pillow, I got very excited because I thought that it was a Christmas tree that little ones could actually decorate.  It turned out that the ornaments were stitched on and not removable.
So, when I made my knock off version, I decided to give it my own twist and make the ornaments removable.  I sewed snaps onto my tree pillow and then attached snaps to the backs of buttons so that my little ones could decorate the tree however they liked, over and over again.
Little hands have been busy decorating and re-decorating this tree pillow.  I tried to put it away with the Christmas decorations, but it's since been pulled back out.  I guess we just started decorating a little early this year!
Craft #3 – J. Crew Fall Knock-Off - Autumn @ It's Always Autumn
Since the weather's cooling off and it's time to pull out the fall clothes, I decided to knock off a J.Crew outfit for my little girl for this week's challenge.
J.Crew's version of this adorable outfit (shirt, skirt, leggings, and shoes) adds up to $164. My version comes in at less than a tenth of that, with my out of pocket adding up to a measely ten bucks. Not bad, right? The best part is that each piece was fairly simple to put together – meaning anyone could complete this knockoff for a whole lot less than the original!
I started with a blue long sleeve women's shirt from the thrift store ($2.50) that I sized down for my little girl, but for a dollar or two more you could skip the sewing and start with a child's tee from Old Navy. I used white craft paint and glitter fabric paint ($2 total) along with scraps of white ribbon to dress up the t-shirt cardigan style, just like the J-Crew version.
I whipped up a simple pair of leggings from another thrift store shirt ($1) and used a home-made stamp and some ink I had on hand to add the adorable star pattern. My leggings are a little brighter than the J.Crew version because I love the look of yellow with blue.
The cupcake skirt is made with just 1/2 yard of soft Chambray from Walmart ($3), white thread and elastic. The pieces are all rectangles, and if you can sew a straight line you can make this skirt.
Finally, the shoes are tiny Crocs from the thrift store ($1.50) that I spray painted silver with leftover spray paint (used on a Halloween years ago).
Even if you didn't have all the items I used on hand, you'd be able to buy everything for well under 25 bucks, which would still save you nearly $140! I saved $154, so I guess I get to go shopping now, right?
Craft #4 – Ralph Lauren Knockoff - Jessica @ The Domestic Fruit Loop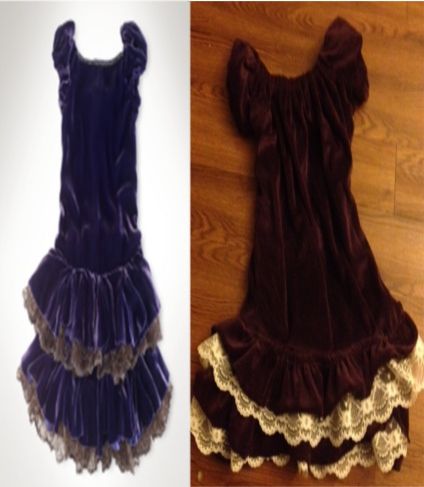 $315 Ralph Lauren Knockoff
Knock off week! Woohoo! I could not wait for this week. I found this amazing Ralph Lauren dress that I love. Their price was listed as $315 and my knock off cost under $16. I am super excited about this and I can not wait for my daughter to get the chance to wear it. I knew that I could make something very close to it for my daughter.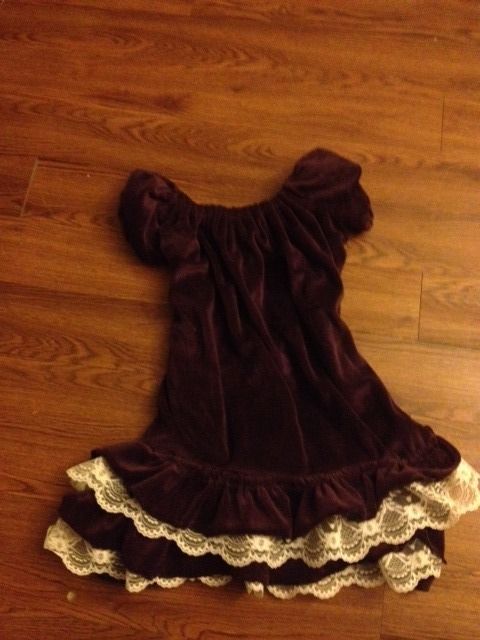 I started with the beautiful purple velvet and I used trim lace from hobby lobby for the lace underneath. I used this free tutorial from fabric.com for the base of the dress but I made several alterations to get the fit and look closer to the original.