I am Kirstin, half of the sister team that blogs at kojodesigns. I am wife to one dental-school-student (he graduates in May! Woohoo!), mama to Burke and Piper Jane, lover of creative pursuits.
Since my taste usually outruns my budget, I love to make knock-offs (dresses, clothes for my Smoochies, home decor and jewelry are my favorite things to reinterpret). Anthropologie and J Crew are my most frequent inspirations, but nothing is safe from my "How Could I Make That Myself?" endeavors.
A few other tidbits about me? I love diet coke, pomegranates, running, anything letterpressed, our church, travel (and planning trips), making lists, sundresses (well, all dresses), skiing, pretty fabric and nice wrapping paper, throwing parties and showers, and my family. Oh, and craft competitions. Let's get this party started!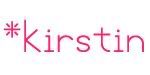 Kirstin's All Star Projects: