I love a good project with the boys, especially during the summer! Most recently we've been working on Project Life together (It's a great Sunday activity). However, we've done everything from crochet to fine art…
Since summer hit, I have been collecting great kids craft ideas and I have really been looking forward to our Kids Can Do Challenge.
The Projects…
Project #1 Squirt Gun Curtains
I adore munchkins and had so much fun with these two this last weekend. Armed with a photo of their bedspread I picked up various colors of acrylic paint and a pack of 8 squirt guns for $2.99.   Little boys + paint + squirt guns and you're guaranteed a great and really messy time! I hung up a sheet outside and they went to town. We even used a glow in the dark paint!
When they were all done squirting, we left it out to dry while we cleaned off with the hose. I took the sheet home and turned it into two curtain panels, added some fun double zigzag stitching on the edges in blue and red thread. The next day I delivered their curtains for their room and they were SO excited!    
When you hear, "Wow, that's great! I love all the colors!" from a 4 year old you know you've done something right for kids week.  
I  said, "You made that!!" Little man said, "I know!" with a giant smile!  The curtains are so fun for their room and the glow paint adds the  "stars" element! They kept saying, "Turn off the lights!!" The total cost  for this project was $10 for the flat sheet, $1.57 per paint color and  then a rod if you don't already have one. I'd suspect most of you have  all the supplies on hand already.
Now go gather up the supplies and release the kiddos to make their own room decor. Pillow cases  to match would be super fun too! That's next on our list for the boys 🙂
Project #2 Home Sweet Home
Project #3 Rainbow Nursery Art
For this week's challenge, I decided to have the kids make something that we can hang in the nursery.   The song "The Rainbow Connection" is special to us for lots of reasons, but mainly because it's the song that I sing them to sleep with when they are babies.   I love the lyrics because they are all about wishing, finding the end of rainbows, and childhood wonder.   The art that the kids made has the lyrics of the first verse.
So you are probably wondering, how is this a "kids can do" project?   They made this, I promise, with just a little bit of help from mommy and some vinyl lettering.   I don't want to get into too much detail because this isn't a tutorial, but the kids painted the rainbow on canvas, I put on the vinyl, then they painted white over the whole thing, and we peeled off the letters together.   You  could, of course, do this project with different lyrics ("Somewhere  Over the Rainbow" would be cute) and use vinyl stickers instead of  lettering.
I just LOVE the way some of the letters transition from one color to the  next and how the background looks like a rainbow peeking through the  clouds!   It's going to look so cute in the nursery!
Project #4 Pixel Art T-Shirt
For Kids Can Do week, I wanted to do something both for the kids and by the kids… you know, FKBK. And my kids love making t-shirts. We decided to make some pixel art as a team.
There are plenty of pixel patterns out there on the internet; you can even use Perler bead patterns. Since my kids like to put together Perler beads following patterns, I knew they'd be into making these t-shirts. With parental prep work, it's really just a matter of reproducing the pattern on the t-shirt.
I used iron-on vinyl and cut it into 1/2″ squares. A lot of squares. I found a pixel image that they liked and printed it out, and then I got a large piece of cardboard and drew a grid of 1/2″ squares on it. By slipping it into the t-shirt, you could see the grid through the fabric and use it as your guide. Then I set the kids to work. I put a tiny amount of adhesive on the vinyl squares so they wouldn't move around, and they kids laid them all out.
Once the "pixels" are all attached, you iron the shirt and peel off all the backings. And that's it! The slightly wonky nature of the kid-aligned pixels is perfect, since it allows you to see each individual pixel. And of course, it's endearing, right?
Hope you like!
Project #5 Felt People
Hey everyone! Thanks again for voting for me and allowing me the opportunity to come back and show you my kids can do it project. For this theme I knew I wanted to do something that was sewing with my children. Due to unforeseen reasons my children have not gotten to make theirs yet, but me making one first gave me the chance to work out the details so that when they make theirs it will go smoother. After voting is over and I get to feature my project on my blog there will be more felt people.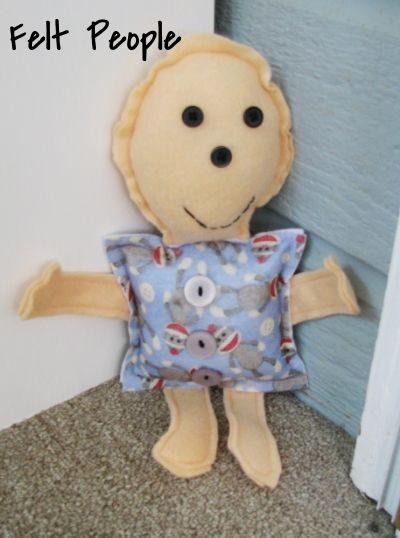 We made felt people. My children and I went to the craft store and each of them picked out some felt for the "clothes" and I got a bunch of flesh colored felt for the head, arms and legs. I started out by drawing a pattern on some paper and cutting it out. Then we used the pattern to cut out all the pieces. I got some buttons for the eyes, nose and shirt. At first we made the nose with just embroidery thread but then I decided a button would look better. Also we used embroidery thread to stitch on a mouth.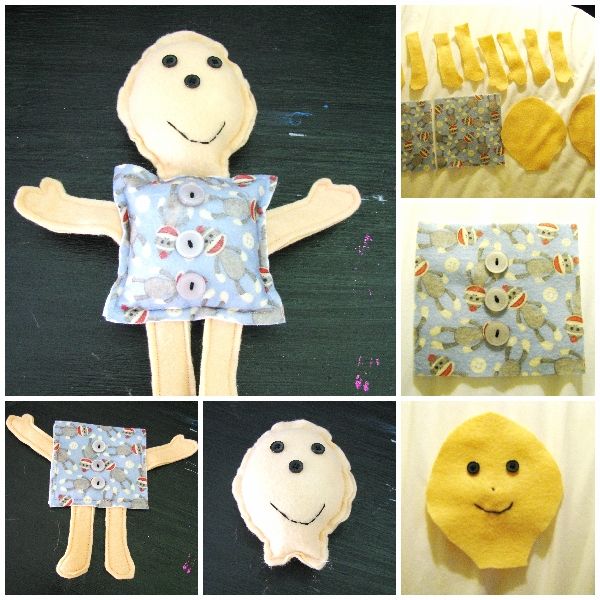 Originally I thought I wanted to turn the pieces so you couldn't see the seams but that was harder than I wanted for something for children to make and since its felt the ends won't fray. We used the sewing machine to stitch up the arms, legs, head and body. We put stuffing in the head and body. Now the children each have a project that they made and they can keep and enjoy. We decided to make felt people because then its good for a girl or a boy. My husband said a boy can't have a baby doll.
Project # 6 Busy Blanket
The idea for "The Busy Blanket" came to me when I was planning our family vacation.  Keeping young kids entertained can often be difficult and I didn't want to have to pack too many toys from home.  A long time ago, I made a quiet book for my oldest child…. it was a small book full of cute little activities.  Realizing how fun those are, I came up with the idea for the ultimate activity blanket!
The Busy Blanket has nylon straps with an adorable cherry print oil cloth outer for waterproof protection (plus it is stylish enough for me to carry around!)   The other side has a mesh bag for collecting seashells and rocks.   It folds in thirds and then in fourths and attaches together with velcro.  (tutorial coming soon!)
Once unfolded, the kids will freak out by how insanely awesome it is.  The blanket was made out of two large bath towels joined together and then trimmed out with lime green binding and backed with the oilcloth.
There are so many activities inside for the kids to enjoy:
A magnetic clock with magnet clock hands, fabric chalkboard (yes, chalkboard fabric!), an I Spy Bag, felt tic-tac-toe, mesh storage bag for game pieces, dry erase board with markers and crayons, and a foam number puzzle.
So far, my kids' favorite part is the dry erase board.  It was created by attaching clear vinyl over white felt and then sewing it onto the towel.  The dry erase markers and crayons wipe right off with a rag  for lots of imaginative drawings.
I will most definitely be sharing info on how to make each section, so stay tuned!
There are so many activities for kids of all ages and they can be varied according to your child's interests.  Everything on the blanket is washable, which is perfect after a day at the beach.
The best part is that even though I sewed most of the blanket together, you can most definitely use fabric glue or hot glue if you aren't up for such a large sewing job.   The kids can also help pitch in and glue things down.
I can already tell this blanket is going to be a big hit when we head up to the lake this summer!
Project #7 Clay Jewelry  
Kids are fun to make stuff for and fun to work with making stuff.. in some cases. I am a kid at heart and when I discovered sculpey it reminded me of play doh and I was so excited. I decided to make some pendants that are kid friendly.
They can be made into necklaces, rings, earrings or anything else you desire.
I decided to make two necklaces a ring and earrings and now I will need to figure out which ones I am going to keep for myself for fourth of july and which ones I will share with others.
Project #8 Kids Summer Scrapbook
My kids love taking their own pictures. They also love to look at photo albums. We decided to combine both of those things. They get to make their very own summer scrapbook. Inside it will be filled with pictures they take and pages they make.
My kids started by making a list of all the fun summer things we do. I got them out my scrapbook stuff and let them have at it. What they did was made pre-done scrapbook pages. They will take pictures when we go fun places this summer. After they take the pictures I will help them print them. At the end of the summer they will have their very own completed scrapbook!
My kids were so excited with this project! They said they want to do one of these every year. As a Mom it was so fun to sit back and watch them do their own thing. This will be a treasure that our whole family will love for years to come!
The Voting…
Voting on SYTYC's Kids Can Do Challenge will run through Monday, June 24 – Thursday, June 27 at 5 p.m. MST. The winner will be announced Friday, June 28. To see the winning project tutorial, please pop over on Tuesday, July 2.