*Hey everybody! Season 14 of So You Think You're Crafty is going to be fantastic. However, it won't be starting until the New Year – we decided to let the crafters have a little break and family time too    . But I have a great schedule of guest posts and shop spotlights lined up from now until then. Have a great Holiday season and see you all after the New Year!*
I love this blog! I appreciate all the work Missy does to give us
crafters a chance to show off our work, I was a part of season nine (I
think that was it) and I'm really excited to be guest posting today! I blog over at
Nap-Time Creations
, and would love for you to come over and check it out! I host a weekly food/craft party…
Tasteful Tuesdays
that just continues to grow… love!
Onto what I have for you!
I found this online last year…. Its just a photo on a site… no tutorial or directions.
So today…. I've made my own version and am sharing it with all of you! I really love the finished garland and I am LOVING the twine look for my Christmas decor this year.


First, you can find the cookie templates HERE. I used three different methods (one for each cookie) but you could make all with the same method… find what works best for you and what is easiest for you.
(oh and side note… I don't love the pictures… it has literally been raining for weeks here in Hong Kong, so my house is always dark!)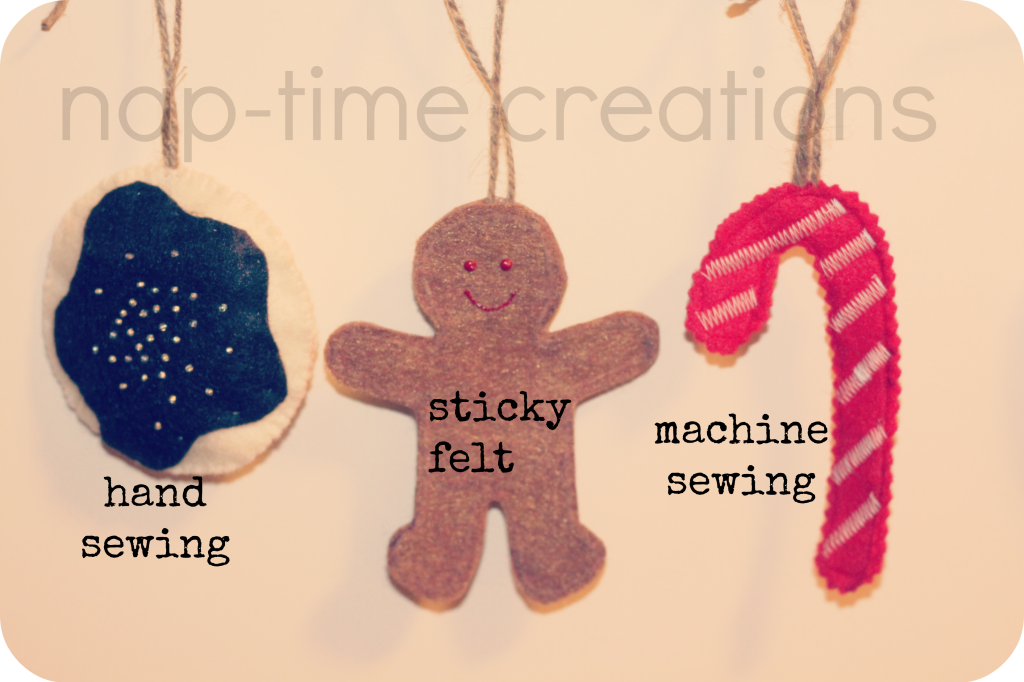 I'll take you step-by-step through each cookie and then give variations if you would like…
First up: the Hand-Sewn Christmas Cookie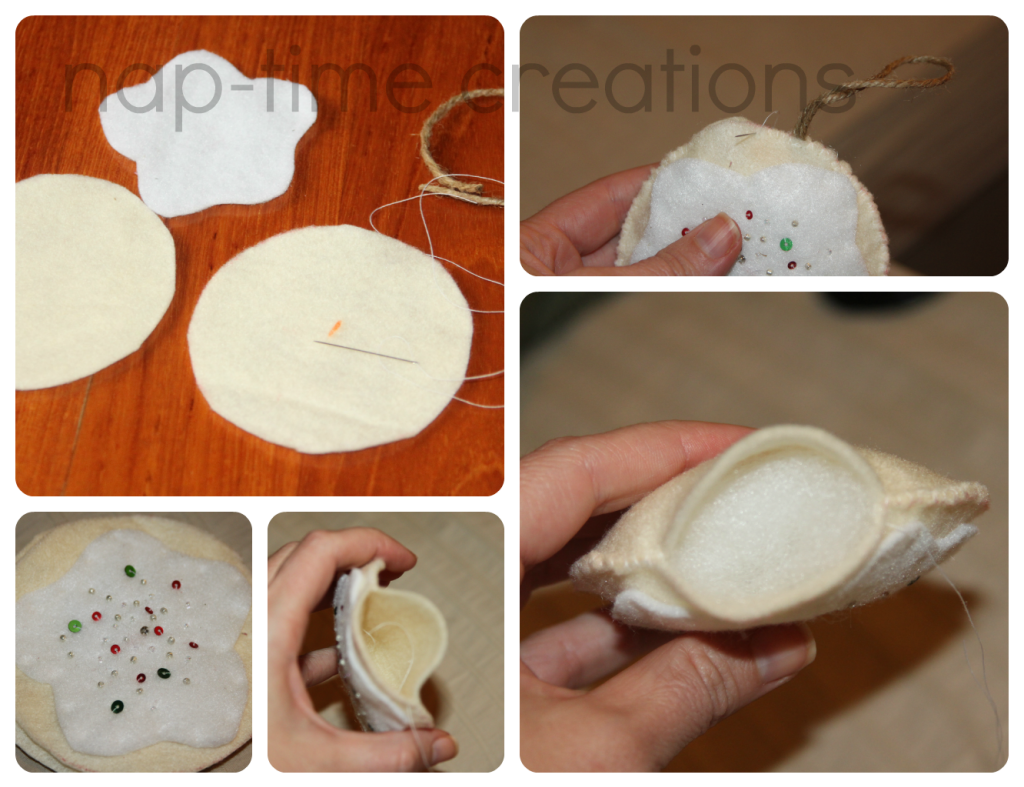 start by cutting out the cookie (x2 for each) and icing. Hand sew on the beads for sprinkles (I love this detail!) you could also glue them. I also put a few stitches around the outside of the frosting (you could machine sew this)   After you have your cookie "decorated", sew around the edge, stuff and close the hole, inserting your hanging loop. With the exception of the beads this could all be machine sewed. I think it would also look cute just using sticky felt and not stuffing it.
Second Cookie: Gingerbread Men

I used sticky felt for these little guys because it was what I had on hand in brown. I cut out two for each and stuck them together with the hanger in the middle. I added puffy paint detail for the "frosting" trim and face. You could also use two pieces of normal felt and either hand sew or machine sew them together.
Third Cookie: Candy Cane (not really a cookie, more of a candy…)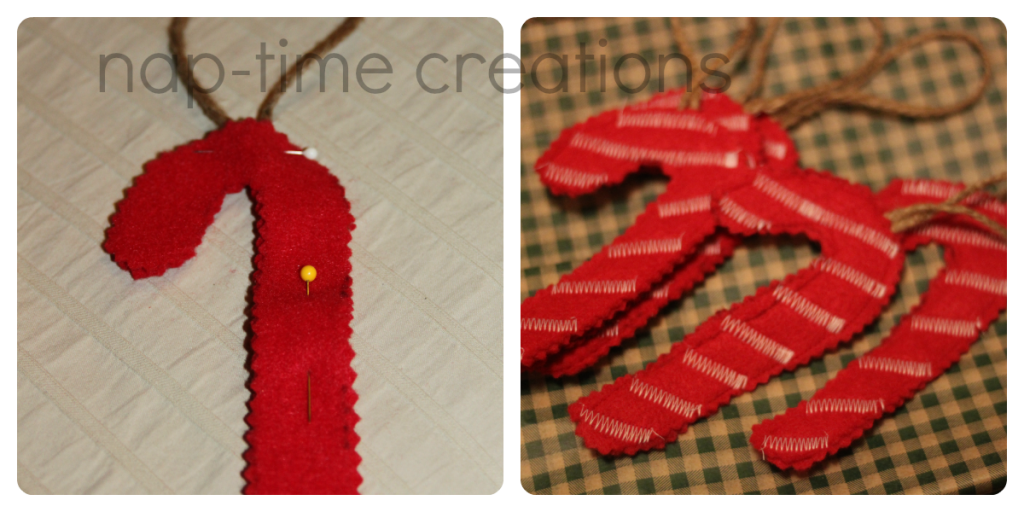 Cut out two for each cane from the template. I pinned two together with the twine in between. I then machine sewed around the outside, catching the twine. I finished these beauties off by zig-zagging strips on each one. My settings were: stitch width 7mm (as wide as my machine goes) and stitch length 1.
You could also use the sticky felt for an entirely no-sew version of these candies.
Putting it all together:
You could use ribbon, which may be a little easier, but in keeping with my twine love…. here is how I made the top for the garland. Take a piece of twine a bit more the twice the length you need. Tie one end to a chair or get help. Twist the loose end in one direction until is starts to twist up (like photo). Place you hand in the center and fold it in half, letting it twist all into itself. Now you should have a two stranded twisty twine that will stay like that. I took a short twine, put it through the loop on the ornament and then through a hole (make with your finger) in the twisty garland. Tie in your ornament here and it will not slip or slide. Evenly space out your pattern… then hang it up… stand back and enjoy!
Now if I could only decide where to hang it….
 Follow along here:
Facebook
*
Pinterest
*
Subscribe in a reader