I hope you all had a great weekend! Â Guess what Saturday was? Â It was the 1 year anniversery for So You Think You're Crafty! Â I can not believe that it's already been a whole year. Â We've meet over 50 bloggers through the 5 seasons of last year. Â Are you still keeping up with them? Â I hope so! They're all doing fantastic things!
As a late blogiversery present to all of you awesome readers I've got 5 AMAZING giveaways coming up this week; starting tomorrow. Â So be sure to come and check them out!
So Mandy was far and away the winner last week with her Leaf Rosette Wreath.
I just have share this conversation I had with her last week.
"Hey Missy! Here's the project for next week!"
"Thanks Mandy, but I think you've got the theme wrong. Â This week is Natural"
"Oh, right…Can I have a little extra time?"
Within a few hours I found this project in my inbox. Â That's right, she came up with and made the wreath in just a few hours. Â That is some crafty talent!
Last week seemed to be full of little mishaps, but poor Heidi wasn't as lucky as Mandy.  While working on her gorgeous Leaf Center Piece she burnt her hand, like really bad, and was unable to finish the project to the vision she had imagined (you can read about it here).
I'm so sad to see her go, but know that I can just go check out her blog, Made by Heidi, whenever I miss her, and you should too.
To see the full results from last week you can see them here.
This weeks theme was "Hardware." Â Meaning they had to use things they found in a hardware store to make the craft, and they found some great crafty stuff in with all those nails and screws.
#1 – Child's Art Easel – Nikki
As a person who loves art, I like to give my kids every opportunity to be creative.  We spend quite a bit of time coloring, decorating, painting, and playing with play-doh.  When the hardware theme came up I thought this was the perfect time to make an art easel for my daughter.  With some basic carpentry skills you can whip up an art easel too!
With one side of the easel as a dry erase board and the other a chalk board your child will have a blast using this art easel.
You can find all of the materials at your local hardware store.  Check out the mud pan, it works perfectly for holding chalk and dry erase markers.
#2 – Aluminum Greeting Cards – Chica & Jo
This week's hardware theme sure was a doozy! We walked around our local hardware store looking for inspiration
and found it in an aisle full of metal rods, poles, and grates. There was some lovely punched aluminum that
came in large sheets intended for use in things like radiator covers. When we saw it, though, we knew it was
destined for greeting cards.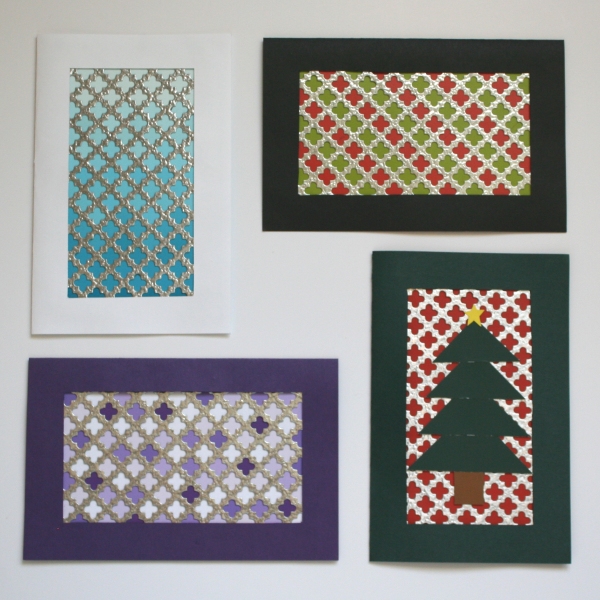 As pretty as the metal was on its own, we knew it needed some color, so we decorated it with another hardware
store find — paint chips! The bright colors make the panels look almost like stained glass, and the cards
are really something special when you open the envelope. The color combination possibilities are endless here.
Of course we started with a couple of Christmas cards.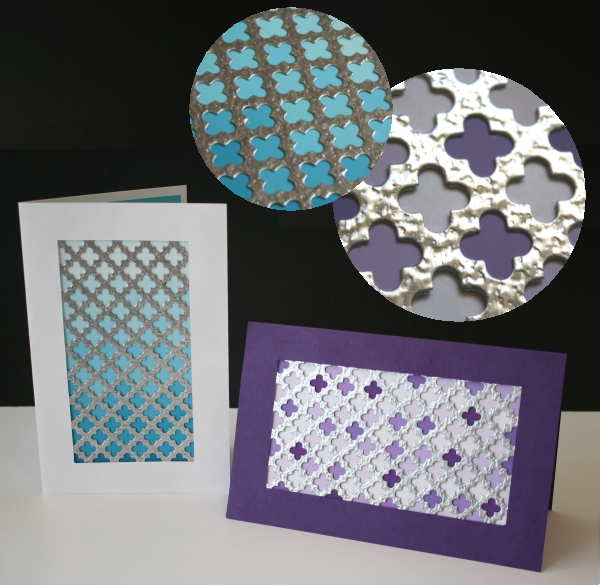 And then we made some that are pretty enough to use for any other occasion. If we win we'll show you just
how we used the paint chips to create those amazing backgrounds.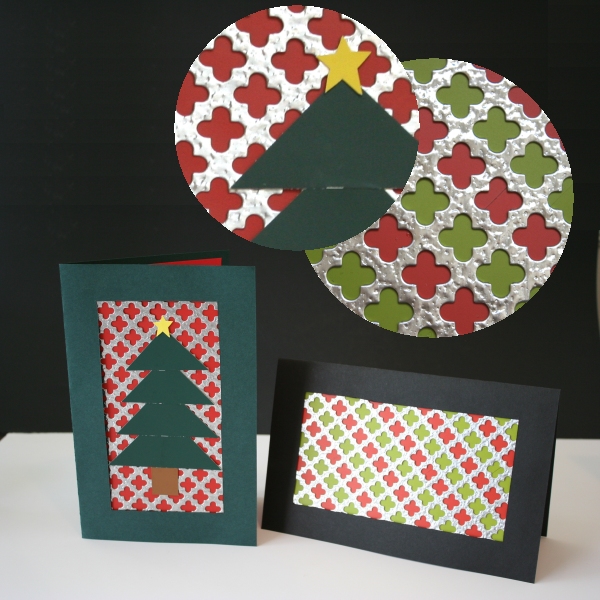 #3 – Reading Nook Hanging Chair – Mandy
After wandering through the hardware store, I came out with:  chains, eyebolts, nuts, washers, painter's dropcloth, lumber, metal bucket, bubble wrap, and colored duct tape.  All for the same project – crazy!!  But it all pulled together for my amazing Reading Nook Hanging Chair.
I LOVE the look – it's the shiny hardware that makes the biggest statement:
The chair doesn't hang too high off the ground, so it's easily accessible to young children.  I mounted it in the corner so it won't swing back and forth too much.  The chair is a relatively easy construction project that anyone can conquer (really!  just a few cuts – I was proud that I worked the chop-saw by myself – and then a few screws to hold it together).  I will provide you all the measurements for mine so you don't have to think, but you can also adjust my measurements to fit your own needs.
And I just had to share this cute picture of the Reading Nook Hanging Chair in action as my little guy was winding down for bedtime last night…
#4 – Interactive World Map – KoJo Designs
We're DIY folk (we do a lot of remodeling), rendering hardware stores Less-Than-Desirable locations to spend an hour or two (in my opinion, at least). However, if you take some time to meander a bit, they are also a treasure trove of fabulous crafting supplies! Upholstery tacks get me every time with their variety and vintage vibe, I feel like drop cloths should get a prize for their versatility (have you seen all of the projects using them? Brilliant!), and I could stare at paint samples for hours. And you'll never (ever!) guess what my 'secret ingredient' for this project was. It was used in the place of cork board (which you can also find at a hardware store, but this gem of a find was much cheaper!) and worked like a charm!
And the best part of my hardware store meandering? Taking a mix of hardware store staples (a drop cloth, upholstery tacks, paint samples and my super fabulous secret ingredient) and making something fabulous for our family- a part home decor, part teaching tool, part interactive experience, part conversation starter world map!
What home wouldn't benefit from this fantastic twist on a traditional world map? Add some mod colors and a box-y grid for looks and drawing the interest of small children and watch the teachable moments materialize. Throw in a key with directions and a box of three different kinds of upholstery tacks so that guests can mark their Places to Go, Places They've Been and People They Know; hours of fun and conversation await. And since very little actual artistic skill was involved in the creation of this little treasure, even non-crafty types could take on this project. An impressive piece of 'art' for your home requiring very little artistic skill and made from inexpensive materials from the hardware store? As Michael Scott would say- it's a Win-Win-Win.