First off – remember the Band-Aid & Neosporin giveaway that's been going on for the last two weeks? Â Well, a winner has been chosen!
If your name is Sabrina Alley…Congratulations!!!
You're the new winner of a Band-Aid & Neosporin first-aid kit worth $40. Please contact me as soon as possible so we can get the details worked out.
So this weekend was the first day of Fall.  I love this time of year and the holiday's that go along with it.  I think one of the favorites is, of course, Halloween.  And the crafters have a bunch of great Halloween inspired projects for you this week.
The poll will be open in the sidebar until Thursday night so vote soon. And don't forget to enter the Whimsy Couture e-pattern giveaway!
Craft #1 -DIY Halloween Direction Post - Hannah @ Young & Crafty
At first when I saw the Halloween theme I had no clue what I was going to do. But then I remembered that I've had this idea in my head for a long time and just haven't had time to get around to doing it! This was actually really easy to make. I made sure to sand it pretty good so that it looked old and weathered. I also love the addition of the crows and spider webs to make it look like it's been around for a long time.
My favorite sign is "Witch Way". I'm such a corny person that I think it's just hilarious! I learned a really cool technique to make the signs that does NOT require any type of machine. Unless you count your printer…
Craft #2 – Hanging Pumpkin Lantern - Jamie @ Three Scoops of Love
Around our house, we tend to decorate for Halloween with happy, smiling pumpkins, rather than spooky ghouls, so I knew I wanted my entry for Halloween week to be something cheery that would actually get used.  I decided that it would be fun to make a hanging lantern out of pumpkins.
Lightweight foam pumpkins are suspended from hardware store chain with embroidery hoops inside the pumpkins.  I added some battery powered tealight candles for a festive glow at nighttime.  I like that the artificial pumpkins make this a decoration that can be used again next fall.
You could really get creative with this lantern.  It would be fun to go ahead and carve jack o'lantern faces on the pumpkins or some fancy geometric designs.
Now, the only problem is deciding where I'll be displaying mine!  I loved it hanging on my covered front porch just as much as inside over the kitchen table.
Craft #3 – Spooky Old Letters -  Lauren @ Lucy Baby Designs
Ooooh, Halloween is the best! I wasn't super into Halloween when I was growing up, but for some reason now I love it. I really enjoy decorating for it, making costumes for my kiddos, and most of all eating some of their candy after they go to bed! No, I don't really do that last one, I swear…
A few years ago, my uncle who is a musician, wrote a children's Halloween Album. One of the songs is called "Spooky Old House" about  the scary house that nobody wants to go trick-or-treat at. Everyone remembers that house, right? That song was the inspiration for my craft for this week.
These letters were very simple and inexpensive to make, just a little time consuming. I wanted them to look a little spooky, so I distressed them.
 
I'm really happy  with how they look on my mantle. All though one of my boys said it doesn't look very scary. I guess almost 8 year old's like more blood and guts when it comes to Halloween. Which, by the way, makes me very sad…
He told me the candles would have been much more spooky if I hadn't covered them in glitter. I guess he has a point.
My kids cannot get enough of a certain Disney monster movie and they think this green guy is hilarious. They love playing on our "bags" set, or "corn hole" like some people call it, so we made a kid sized version perfect for a Halloween party. Mike Wazowski! Mike Wazowski!
The game is made with a 3/8" sheet of plywood that is 4 feet by 4 feet. The supports are scrap blocks of 2×8's, Mike is hand painted, and the mouth was cut using a jigsaw.
I wanted beanbags that had went along with the theme, and something small for little kid hands. If you've seen the movie, the monsters were scared of getting contaminated by kids. When one particular monster had a kid sock on his fur, he was shaved and the sock was blown up!
Socks were the perfect size for kid hands, so I filled them up with popcorn kernels and hot glued them shut. Our monster looks like he's scared of the sock bean bags being thrown at him, and then he eats 'em.
My toddlers loved playing this game and it was easy enough for them to play, but still challenging! Older kids can step farther back or use unfilled socks for a tough challenge. This is also good for a photo prop – your kids can stick their heads out of his mouth and pretend they were eaten!
When I was ten or eleven years old, my parents bought me a paperback copy of The Tales and Poems of Edgar Allan Poe. I started with "The Tell-Tale Heart" and by the time I got to the end of the story I was completely hooked. Seriously, it was cool. A guy murders an old man, buries him beneath the floorboards, and then is driven crazy when his guilt tricks him into thinking he can hear the dead man's heart beating beneath his feet. Awesome, right?
As I got a little older I started to appreciate Poe's stories and poems for more than just their macabre coolness. I liked that Poe could be creepy without actually being gross, and I began to fall in love with the language. Enter "The Raven":
"Once upon a midnight dreary, while I pondered weak and weary, over many a quaint and curious volume of forgotte lore…"
For my Halloween-themed craft I designed a 24×36 inch print that showcases the eerie poem "The Raven." I used antique fonts and a variety of free digital brushes (tree, bird, ink splat, watercolor, and distressing) to create a literary art piece that makes a perfect Halloween decoration.
In order to fit the entire poem on the print, I varied the font size on different lines, at one point taking the font down two points each line, then back up to create a size-ombre effect.
I printed the piece out at Staples as an engineering print, which only cost $3.50. Since it was so cheap, I inverted the piece (so the background is black and the type is white) and printed it that way as well. Both versions are adhered to the front and back of a 1/8 inch piece of MDF from Home Depot (under $5), so I can choose to display either side. I completed my Halloween scene with candles and a string of leaves from the dollar store (both painted black) and a few pumpkin accessories.
[credits: Fonts: Caslon Antique Italic and CK Maternal; brushes: Eerie Pack by Wyckedbrush, Crow Brushes by Zememz, Ink Splats by Shoefly, Dried Blood Splatter by Vexingart, Stains Brush by Aridane, Edgedestroys5 by Wedgewolf; Digital Overlay: House of 3; Software: Adobe Photoshop Elements 6.0]
Yay! Hallowen is my favorite holiday and I could not wait to make this craft! we have a bare entryway and I wanted to both make a halloween craft and snazz up our entry. I took a leftover door from another craft I did awhile back and I took the hardware off. I flipped it around so that the back is the front of this piece, sanded it then spray painted it green and added this really cool felt thing from Hobby Lobby.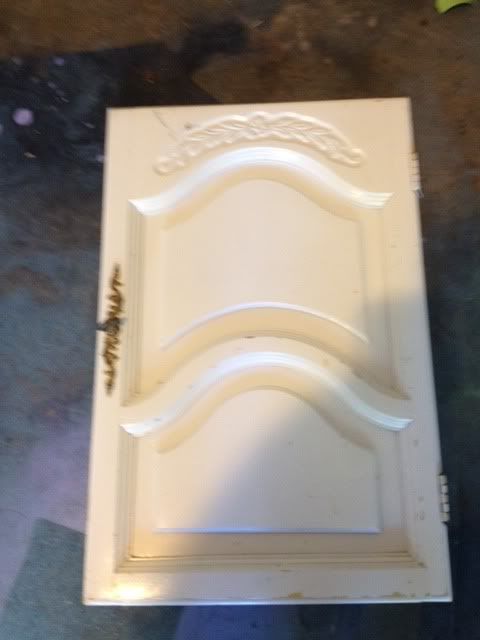 I then sprayed the entire door black, waited for it to dry and peeled the felt pieces off. I love the contrast it created. I then aged the door by sanding it and creating texture. I then covered the inset with some leftover felt i had so that it would not get spray painted on it and I used a crochet doily to created a neat swirly pattern. I painted a small shelf I had black and attached it to the door. I also added some hooks to hold our keys. It looks awesome and totally fits our house. I hope I have inspired you to check out some different halloween crafts.