Well, some of you may have noticed the craziness with the polls on Thursday night.  I have no idea why, but for some reason the polls closed early.  I was able to get everything back up and open, but the poll totals were totally wacked out.  The results showing in the sidebar are different than the results showing on my poll dashboard.  They're so different in fact, that they each show a different loser, and a different winner – and the winner on one is the loser on the other. I have NO idea how they got all messed up like that.
So what the crafters and I think is the best and most fair way to handle the situation is to make this a "no elimination" week.  So today there will still be 7 crafters, but when the poll closes on Thursday (hopefully at the correct time) the TWO crafters with the lowest score will be going home.   That means it's even more important to get your votes in early and spread the word to friends.
And here is a reminder of who is still competing with us:
Kim @ Maiden D'Shade
Camille @Â Sugar Baby Boutique
Catherine @Â CathGrace
Valerie @Â Occasionally Crafty
Christy @Â Inklings & Yarns
Amber @ Mule 'n Nag Crafts
Amelia @Â The Night Garden
Now go vote for your favorite Glitter/Shine/Metallic project!
You can see the poll results here.
Craft #1 – Glitter Envelope Clutch -Â Valerie @Â Occasionally Crafty
Thanks again for your votes last week! Â This is a really fun week and I'm excited to show you my project!
I'll have to admit- I'm not a girly girl. Â So glitter, shine, and all aren't exactly my forte. Â I wanted something I would really use, with just a touch of extra glitz and glamour. Â So, I whipped up this Glitter Envelope Clutch for Mom's Night Out!
Let's be honest, when you're a mom of young children, you don't get to carry around cute little bags very often. Â So, when I'm out with friends or with my husband, I just want the bare necessities and that's it! Â This envelop clutch has just enough room for what every woman needs: Â her phone, a credit/debit card, and some extra lip gloss. Â You could throw in some gum or mints and still have plenty of space.
This clutch is fully lined and made out of a sturdy canvas. Â The glitz and glitter is added with glitter tape and fabric glue, plus some sequin trim to match the lining of the clutch.
Next time you have a night out, consider whipping up a little clutch of your own! Â It's easy and inexpensive, even if you're not an experienced sewer. Â It would be perfect for Valentine's Day!!!
If you like my clutch, I'd love your vote! Â Thanks so much!
Craft #2 – Illuminated Valentine Canvas - Kim @ Maiden D'Shade
This weeks category is perfect for Valentine's Day! I love to make sparkly and shiny things. So I made an illuminated canvas!
Craft #3 – Beaded Crystal Hair Clips -Â Catherine @Â CathGrace
Metallic/Glitter/Shine was a theme I was super excited about, it is entirely possible that I *may* have been compared to a magpie in my love of sparkly things! For my project, I decided to make some pretty hair ornaments; I have seen similar clips at a couple different expensive retailers, but am loathe to pay full price for anything I can make myself! (I wear my hair up nearly everyday, so I am always in search of pretty things to put in my hair)
These clips are made on a wool felt base, and are hand beaded, sequined, crystallized, and couched with metal chain. I used glass beads, and real gold thread for various details, and they are completely hand made with only the felt, sparkly bits, a needle and thread, and an embroidery hoop! (oh! and the clip and a little glue.)
I made them in colors I wear quite commonly, so I can mix and match them into my daily wardrobe. I love the addition of a little sparkle to my hair (or my daughter's) and they were really fun to make (so you can believe I'll be making more!)
The back of the clips have some fun fabrics, and alligator clips, that hold them firmly in place. I would love your vote, and I am excited to share my tutorial for these, since I am pretty sure almost everyone needs these clips in their lives!
Craft #4 -Sparkling Mini Album -Â Christy @Â Inklings & Yarns
While I've never met a craft I didn't like, my first and true love is
papercrafting. There's just nothing more satisfying than putting the
last touch on a scrapbook layout or crafting the perfect card for an
occasion. So I couldn't let this competition go by without breaking
out my stamps, dies, markers, and–oh yes–glitter. When I saw this
week's theme I knew I was going to have some fun.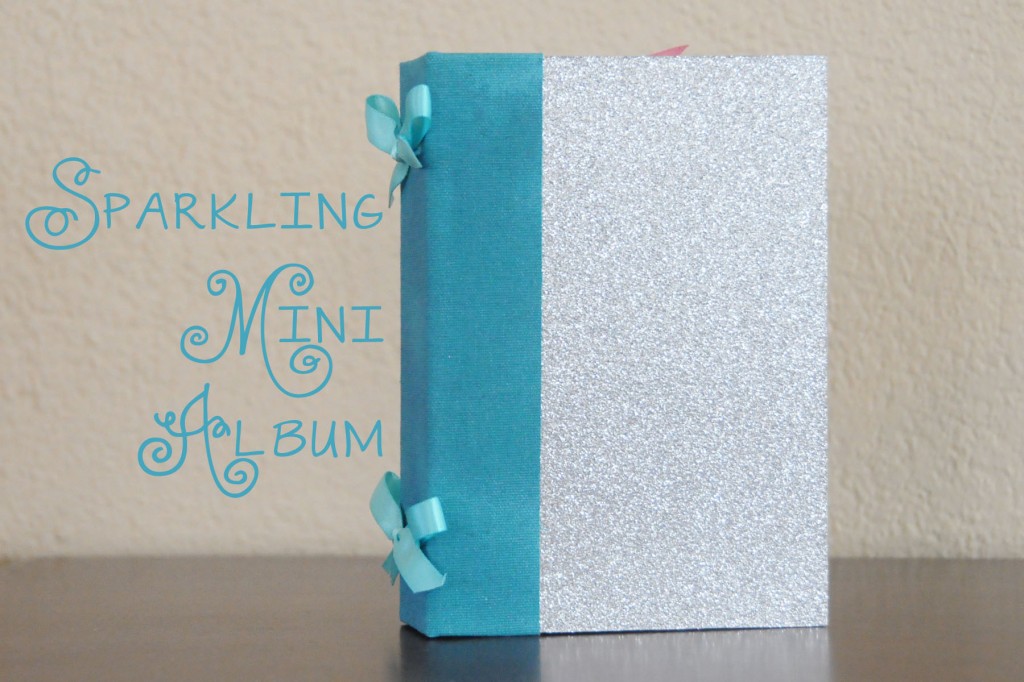 This album has everything: loose glitter, glitter paper, glimmer mist,
screenprinted overlays, metallic paint, metallic stickers, Mylar,
pearlescent stain, Copic coloring, burnished velvet (it's that thing
where you use adhesive tape, masks and different colors of glitter to
create a picture or design).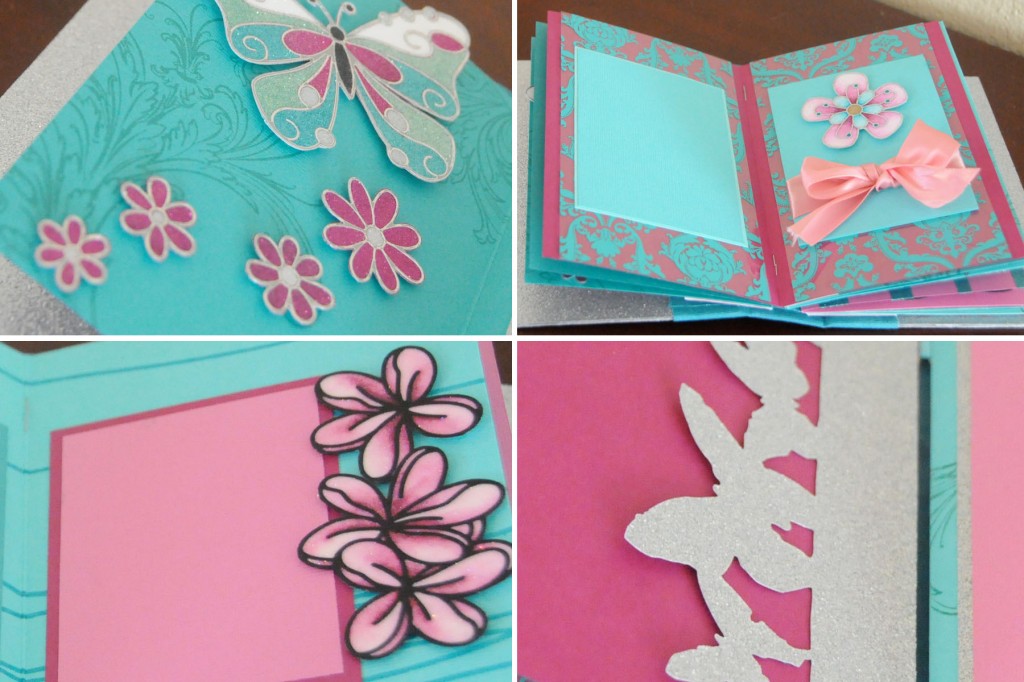 But seriously, I pulled out all of my toys and had so much fun
creating this. I made the covers by laminating glitter paper and
chipboard, then used sticky back canvas (sprayed liberally with
Glimmer Mist) to adhere the spine. Each layout (photographed before
pictures were added to preserve anonymity, of course) features at
least one sparkly element.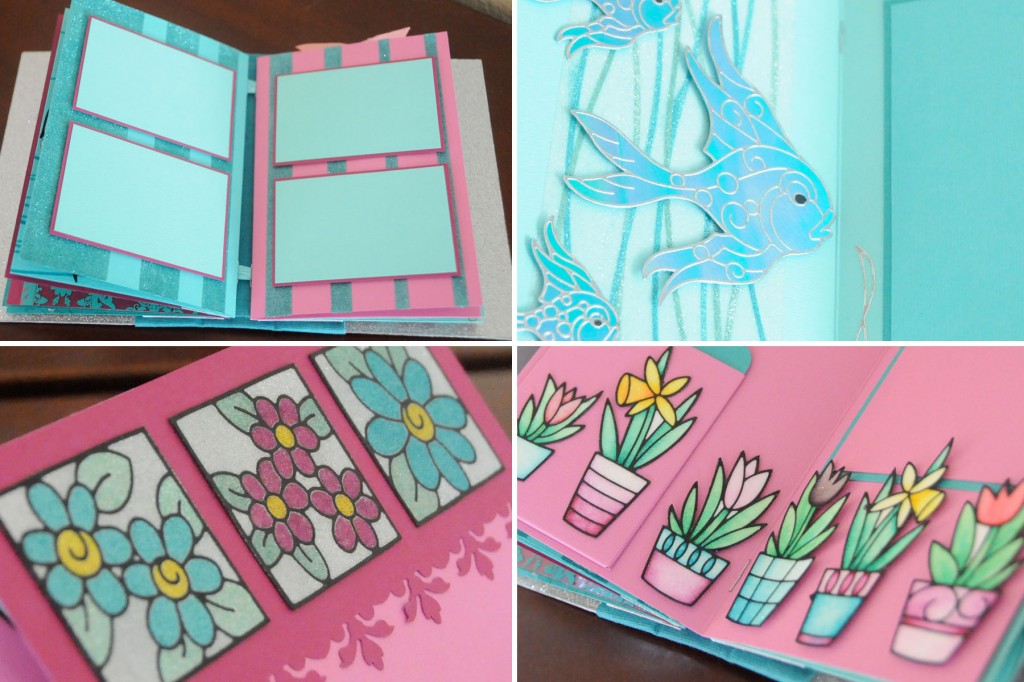 I used vinyl outline stickers and double sided tape to create several
of the embellishments. Some were coated in clear glitter and then
colored with Copic Markers, others I masked and used colored glitter
to fill in. On several layouts I took the glitter directly to the
page. By applying double-sided tape to the background paper I was able
to layer glitter to create custom backgrounds for my pages. Once
everything was finished, I bound the book with staples and ribbon. Now
all I have to do is add my pictures and enjoy!
Craft #5 – Magnetic Travel Games - Amber @ Mule 'n Nag Crafts
So glad I survived until this week because this is the week I've been excited for.  This is a project I've had in the back of my head for a while and the best part is FINALLY getting it done!
My kids enjoy being entertained in the car.  We have a few things, including a DVD player, but we don't always like to get THAT out.  Since they can't stretch their physical muscles, they need to stretch their mental muscles, right?
So, here's what I came up with:
I'm absolutely in LOVE with how they turned out.  And I'm pretty sure my kids are as well— my little engineer won't stop playing with the tangrams case.  His father's son, I guess. 🙂
All together we've got SIX cases with EIGHT games.
Tangrams:  Anyone remember playing with these in elementary school?  Basically using shapes to make pictures.
Grumbly Gator:Â  This is the greater than or less than gator with two different ways to show the numbers.
Tic-Tac-Toe/Stars Wars Angry Birds Memory:  One side is a tic-tac-toe game.  The other side is Memory: Star Wars Angry Birds style.  I found the perfect circle magnets to cover the pictures at Hobby Lobby.  AND to keep the kids from memorizing where the characters are, I designed FOUR game boards.
Dominoes:Â  This is a Double-Nine set of dominoes.
The Dot Game & Letter Practice:  Another doubled-up case.  One-side is the Dot Game, you know, the one played while time passed extra slow at a restaurant?.  My Grandpa used to draw them out on napkins.  The gameboard is laminated, in order to use Dry-Erase Crayons or markers on them.  The other side is Writing Practice.  There's a card for every letter and then I also made name cards for each of my kids and an address card with our address on it.  (See the full colored letters, that's what happens when a 3-year-old is just barely starting to write). 🙂
Scrabble Spelling:  Last, but not least, I found a picture of all of the Scrabble tiles and the kids can use them to practice spelling.  The other side has a little bit of Dry-Erase Vinyl.  We can write a word down, then they can spell it out with the tiles (or we can just write fun messages to  SYTYC followers.)
I designed everything (except the Tangram pages & scrabble tiles— which I will share the link for after voting).  Then, printed everything out on a color laser (so they don't have to be laminated) and went cutting away.  The Hubs and I watched a few episodes of Big Bang Theory while we cut (Bazinga!).
My favorite part about this is that the possibilities are endless; think of a game you want to be portable and one metal case and a few magnets later- voila!
Craft #6 – Gold Leaf Table -Â Camille @Â Sugar Baby Boutique
I was really excited for this weeks theme. But, I ran out of time due to my chronic procrastination to do the project I've been planning for months so I switched my thoughts around to this little lonely coffee table that had been begging for a makeover. I started out with DIY chalk paint, which was fantastic. I did no sanding or priming and I'm pretty sure this was laminate. Plus it only took 2 coats to take this from black to cream. Then I drew out the pattern I wanted onto the table, and hand leafed the gold leafs onto the table which was a lot more work than I had anticipated. It's definitely not perfect but I think the  flaws add more character 😉 I love it and hope you do too!
Craft #7 – Mod Sunburst Mirror -Â Amelia @Â The Night Garden
When I first saw the theme for this week back in December, I knew right
away what I wanted to make. Metallic? Check. Shine? Check. Glitter? . . .
well, I left out the glitter, but I think I used enough metal to make up
for it (and like my husband's always saying about his motorcycle, "It's
not glitter; it's metal-flake"). My choice was obvious: A large
mid-century modern sunburst mirror.
I lucked out and scored the abandoned, gold-colored aluminum tent poles
for $3 at the same rebuilding store where I found the 75-cent, 4-inch
convex mirror and the two light fixture bases ($1 and 50 cents,
respectively). It's just that I found them several weeks apart, when I was
sure my project was doomed and I wasn't at all sure what I was looking
for. Sometimes projects just come together that way; happily, luckily, and
by total accident. It's a huge bonus when it turns out better than you
imagined!
My project is the result of some amazingly lucky finds (and is nearly two
feet across, at its widest point), but this is a pretty versatile project.
My tutorial will show you how to make it using dowels, chopsticks, twigs,
etc. Everyone can make their own huge mod sunburst mirror! If, like
a magpie, you love things shiny, please give it a vote!