*Hey everybody! Season 14 of So You Think You're Crafty is going to be fantastic. However, it won't be starting until the New Year – we decided to let the crafters have a little break and family time too . But I have a great schedule of guest posts and shop spotlights lined up from now until then. Have a great Holiday season and see you all after the New Year!*
Hello So You Think You're Crafty Readers!
I'm Justine from the
Sew Country Chick
blog where I write about handmade living. I sew clothing for myself and my girls, make a lot of crafts with them, and try to prettify our old, California farmhouse.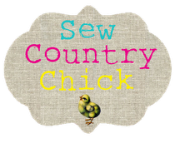 Today I am sharing my Mod Podged glitter and music covered letters with you.
These letters were a lot of fun to make and a great way to use a huge stack of random sheet music I bought at an estate sale.
But you can always just use an old music book from the thrift shop. I see them there a lot….
Materials:
Old music sheets
Cardboard letters from the craft store
Silver glitter
Mod Podge
Cover the letters with strips of the paper dipped in Mod Podge.
Let it dry and then put a coat of Mod Podge on as a topcoat to seal it.
I used Martha Stewart glitter paint on the edges.
I put a few coats of glitter on to make it nice and thick.
Well, there you have it.
A simple but really festive looking decoration for your home this Christmas!