Do any of you have a project that you've started, but never finished?  But you want to finish it.  You just have never seem to get around to it?
Well, I have this cross stitching project that I started over two years ago.  I have it in a bag that I carry from the side of my bed to the couch and back with big plans to work on it while I watch something with my husband.  But then I just never pull it out of the bag.
This weekend I finally got around to it.  Cross stitching and Project Runway.  Is there any better way to spend a Saturday night?
But anyway, this week's theme is one that is very under represented in blog land but this week looks very promising.  
   Crafts For the Boys are what the crafters had to come up with.
The poll, like always, will be open in the sidebar until Thursday night so vote early!
Craft #1 – Soda Tab Belt  –  Ginger @  Gingerly Made
I love how the two rows of tabs have a chain mail rocker look to them. And even though it's crocheted, it's not girly looking at all. You could even keep it super simple and only do one row. The chain mail effect wouldn't really show, but I thought the single row still looked pretty cool. Also the buckle I bought was pretty wide and needed two rows of tabs to fill it up.
If you have basic crochet skills, you can easily do this project. All it requires are single and double crochet stitches – nothing fancy. It's mostly single crochet stitches the double only comes in on the belt loop.
So, what do you think? Would one of your boys wear this?
The "hardest" part about this project is painting your clip boards.  It's really not hard….just a little time consuming! 😉  First tape up the metal clip with painter's tape, & then start painting. My original idea was to make these busy boards both magnetic & chalkboard.  I found both of these types of spray paint at Hobby Lobby.  Unfortunately my boards didn't end up very magnetic!  I think I should of put on a few more coats of the magnetic spray paint!  Next time I'll test out how magnetic it is before putting the chalkboard paint on top.  Lesson learned! 🙂 So I ended up putting a small piece of sheet metal at the bottom of my boards to hold my kiddos' letter & number magnets.  I actually really like how they turned out.  The back of the board is also chalkboard, so the kiddos still have plenty of room to doodle!
Craft #3 – The Creepy Clown Hat  –  Catherine @  CathGrace
Okay, so my "For The Boys" Week project is quite possibly my favorite thing I have made, EVER. I have a middle-schooler who pretty much doesn't play with toys anymore, and isn't very easy to impress with homemade things, so when I was thinking about what to make for him, I was struggling with what he would actually like, let alone use. The weather where we are has been FREEZING and I all of a sudden knew exactly what would strike him as the perfect, most awesome tween boy accessory ever………
I know you are probably thinking, "a hat? not that awesome." and although I FEEL pretty awesome about the fact that it is my first from scratch knitting pattern (AND I managed to make it fit, and have ear flaps) and I love that it is all 100% wool with a hand-stitched micro-fleece lining so that only soft stuff is against his head, what makes this hat awesome……..no, that's not big enough, what makes this hat AWESOME! is the top view……
Yup, it's a cute and creepy clown. I cannot even tell you how much he loves this hat, it struck his funny bone, created LOTS of friend envy at school (everyone likes to hear that their mom is awesome right?…….or maybe it's just the mom that likes to hear that her kid's friends think she is awesome) and he has not wanted to take it off since I gave it to him (he also does this creepy thing where he puts it over his face and walks around silently, and it is NOT cute.) I crocheted the details for the pom pom nose, the mouth, and the eyes, and the hair has a crocheted base, with latch-hooked hair one strand at a time.  I know I shouldn't love it as much as I do, it makes NO sense, since it is honestly so odd, and I am probably patting myself on the back a little too much (ya think?) but I can't help it! There's just something about thinking of an idea all on your own, and then having it turn out exactly as planned, and then to have it loved by the  recipient? Icing on the cake!
I hope you like it as much as I do, because I would love your vote!!!
Craft #4 –  Trio of Belts & Storage Rack  –  Amber @  Mule 'n Nag Crafts
Our oldest is a tall, skinny boy.   Nothing ever stays on his bum.   When he moves up in a size length-wise, he spends the following months pulling up his pants every few minutes.   I'm ashamed to say before this week's challenge, we'd just safety pin his pants until they fit properly. (I know, I know, shameful).
With the opportunity of this challenge, I wanted to make him some belts.   But, not just any belts… they had to be special, awesome, super-cool belts that he could wear to kindergarten in the fall (I can't believe he's THAT old?   Why must it go SO fast?).   So, I went to him, told him I wanted to make some belts.   I had this sweet idea (which I still might do for him in the future) for themed belts, but he wanted to pick the 'type,' and since their his belts, not mine.   His ideas won.
He was so excited about his new belts.   We started taking this pictures soon after they were made and he was jumping up and down.   Victory!       The best part about creating for my kids is seeing the reaction on their faces.   My eldest boy's was priceless.   He pretended to be a jedi, baseball player and superhero all in a matter of minutes.   Sweet.
Far Away Galaxy Belt and Hey Batter Belt (he actually named it something else, but that might be too much of a hint of my identity) are made a similar away.   My boy picked out the fabric, I sewed it onto some nylon webbing, and added a couple D-rings to one of the ends.   The Bat Belt is what I'm particularly excited about.   I traced all those little bats out of felt and fused them to the nylon webbing.   With that, he became the owner of three belts (3 times more than he had before!)
Since he couldn't wear them all at once, and he also had a few homemade ties (guilty) laying around, I also made a storage rack.
A little bit of wood trim, paint, c-hooks, and screws makes life in my boys' closet a little less chaotic.   It's the simple things really…:)
Craft #5 Р a Pull-String Robot Pi̱ata +  Candy Filler  Р Amelia @  The Night Garden
Craft #6 – A Castle Fit for Little Kings  –  Christy @  Inklings & Yarns
I have to be honest, this week's theme had me stumped. I don't have a
lot of boys in my life to craft for, so I had no idea where to start.
Finally, after several friends with boys told me they had trouble
finding "make-believe" type toys that appealed to their sons, an idea
started to take shape.
I thought back to when I was a child, and my brothers were constantly
making blanket forts and club houses. We don't have a lot of space in
our house for club houses, but I realized we do have one space that's
completely useless to anyone over, say 3 feet tall. And that's how I
decided to turn the space under the dining room table into the
ultimate blanket fort.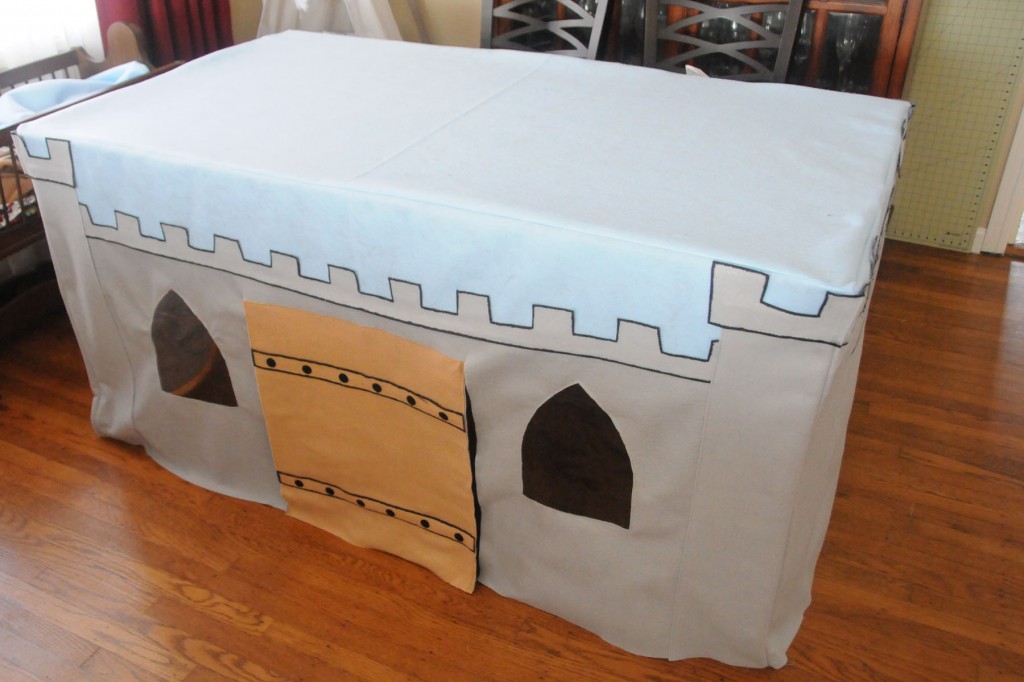 It's not actually made of blankets. I used felt because it's
inexpensive and fairly sturdy. It's also a bit of a pain to sew with;
if I were to do this again I might sacrifice some structure for a
fabric that doesn't stick to itself quite so easily.
The castle design is delightfully versatile. Inside, children can be
knights fighting off fire-breathing dragons, young wizards studying at
Hogwarts, or kings of the realm. Heck, even girls can enjoy playing
perfectly capable damsels who aren't in the least bit of distress. I
kindof wish our table was taller so I could fit in there.
Favorite details: I outlined the battlements with a paint pen to make
them pop against the rest of the castle. I also cut them slightly
uneven to give the castle a more whimsical look. The "bolts" on the
door are dots of velcro, which match up to a strip sewn to the inside
so it can stay open. The windows mark the validation of years worth of
hoarding saving. I always keep that clear plastic packaging
that bedding and curtains are sold in, thinking someday it will come
in handy. And I was finally right!
When not in use, it folds down to about the size of a table cloth and
can be easily tucked away in the linen closet. However, I don't forsee
it spending a lot of time in there.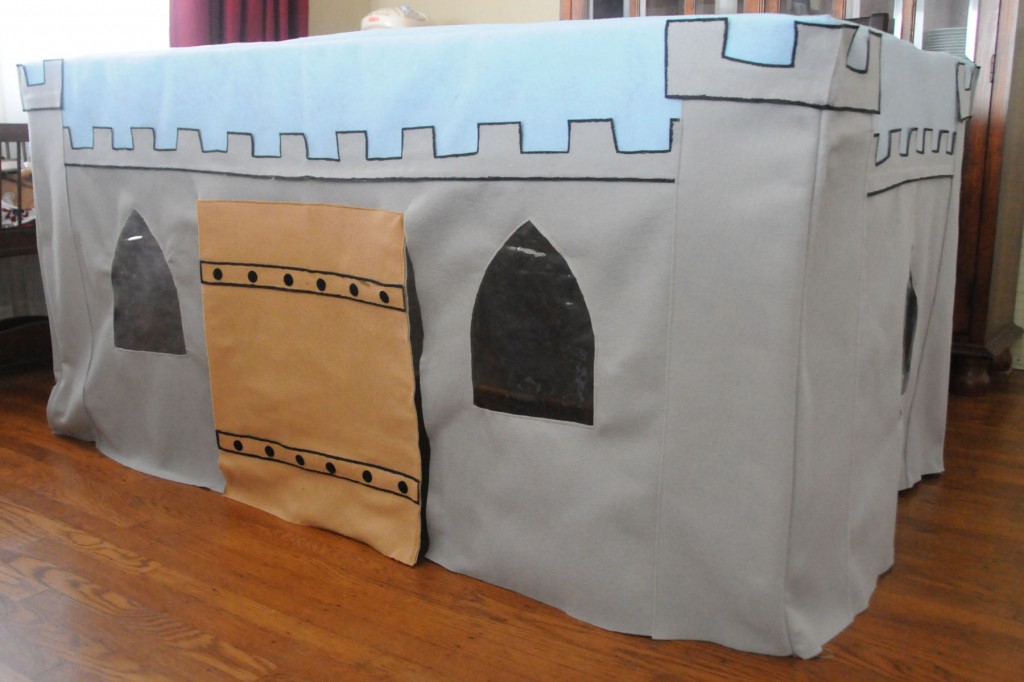 Craft #7 – Airplane Engine Art  –  Kim @  Maiden D'Shade
Hello! I'm happy to be here for week 2! Did you know that paper models (for things boys like) are becoming really popular? Well, I thought I'd try one. I've been wanting to make something using the phrase "I Love Airplane Noise" ever since I saw it on a bumper sticker at a gift shop at an airplane museum. Come to think of it, I've been to several airplane museums. There's one that fly WWI aircraft during the summer months. They put on quite a show! When I saw paper model plans with printables for a 9-cylinder  airplane engine with propeller, I thought that would go perfectly with the phrase! So I set out to make something my husband could keep in his office:
Here's what I did: I  downloaded  the plans (and  rearranged  the layout) of all the parts and also enlarged everything by 200%. For my first model I didn't want to work with small pieces. Plus I wanted a bigger engine 🙂   I had it printed on uncoated 80lb cardstock so that it was firm.
I won't lie… this took longer than I thought. Cutting, scoring, folding, gluing… But it's really amazing to take something  flat  like paper, and end up with a 3-dimensional model! Well, except for some carbon fiber for the rods. And glue. But it's mainly paper!
I cut a 14 inch wide piece of a 1×10 pine plank, routed the edges and stained it.
Then I cut out the phrase in white vinyl on my craft cutter and applied it to the wood. Then I mounted the engine and it was done! My husband loves it!
Thanks for checking out week 2 and for your consideration!
Craft #8 – DIY Darth Vader Stencil  –  Valerie @  Occasionally Crafty
If you are the mom of a boy, then it is likely that he is now or someday soon will be obsessed with Star Wars.  If it hasn't happened yet, prepare yourself–it most likely will.  Even if you never show them the movies, somehow, they will learn about  light sabers   Luke and Han Solo, and of course the big baddy himself- Darth Vader.
My oldest son is no exception:   he's learned how to turn almost anything into a  light saber   only wants to check out Star Wars books from the library, and tells everyone he meets about all the characters and what they do.  So, when I heard the theme for this week was "For the Boys", I knew I had to make something Star-Wars related.  Here is my Darth Vader Stenciled Shirt.
I sketched out a Darth Vader head, based on some different  clip art  images I found online.  Once I had a sketch I was happy with, I traced it onto freezer paper.
Normally I would use my Silhouette to cut out the stencil, but I'm having trouble with my blade.  Since I was on a deadline, I used the old-fashioned method:  X-acto knife and a cutting board.  I cut out all the parts that I wanted to be painted.  Then I ironed the freezer paper onto my t-shirt.  I used two coats of black fabric paint to fill in all the openings, and when it was dry to the touch, I peeled the freezer paper off to showcase my design.
My son LOVED his shirt.  Knowing it would look even cooler on a black background, I made him a matching pillow for his bed.
Now, can I use a Jedi mind trick to get you to vote for me?  May the force be with you!
Craft #9 – Shark Stuffie  –  Camille @  Sugar Baby Boutique