First off, thank you for your kind comments about my taking the week off. Â It was much needed and I'm pretty sure we're all better now. Â I hope you all had a great week too.
Celeste from Celestial's Creations pulled in another win with her Boy Booty Bag.
How outrageously awesome is that? Â I know a few little boys (and girls for that matter) that would love one of those.
The bad news is that we have to say goodbye to Terra from  Mama Says Sew.
Her Swirled Circles Lamp would look so cute in a nursery wouldn't it? Â Be sure to check out her blog to see her other great stuff.
When I planned the challenges for this season I thought this weeks theme would be perfect timing.  But now that this week is here, I realize it's a little too late in this neck of the woods. All our Fall Colors have fallen to the ground.  I hope it's still gorgeous where you are.  Just like always, the poll will be open until Friday night.
Craft #1 -Â Â Primitive Burlap Pumpkins -Â Bessie @Â Besserina

I stacked pumpkins made from three shades of burlap and rusty colored wool to create this primitive autumn centerpiece.
A real "stem" sprouts out the top. I draped a garland around and tucked in some Sweet Annie, it will dry beautifully and smell heavenly through Thanksgiving.
Craft #2 -Â Autumn Windows -Â Carlee @Â Lady Bird Lane
"Autumn, the year's last, loveliest smile."
Your window to a perfect fall day!  A fun, simple, and memorable fall craft.
Craft #3 -Â Candy Corn: Corn -Â Emily @Â Nap Time Creations
I had a bag of Candy Corn that I had intended to use to make a wreath. There are SO many fabulous wreath ideas out there, wow! Before I got to it I was struck with a moment of inspiration while looking at another fall decoration… Indian Corn. As I was looking at my bunch I was thinking… I could use my candy corn for this and it would be an amazing, unique decoration!
Add some fall leaf garland for added effect…
I love the way the top looks like real corn and the way the ribbon brings the whole thing together. I'm not sure how it will store, but this is now a permanent fixture in our fall decorations.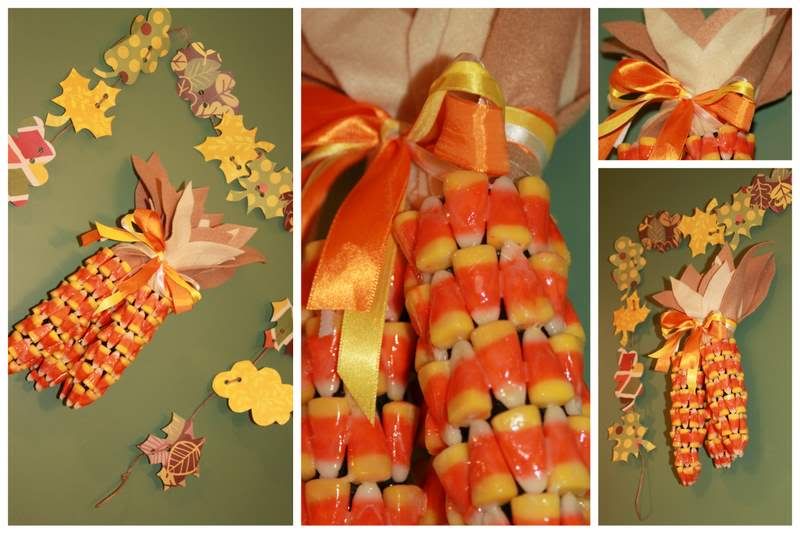 There is one color that I love in the fall. I see it and I just feel autumn, and holidays, and deliciousness.
Pumpkin pie.
Mmmm.
Arguably, pumpkin pie isn't one color but a mix of pumpkin and spice colors.  That mix is probably why I can't find a pumpkin pie crayon in my Crayola box.
I did find some "pumpkin pie" wool blend felt, though. I cut it into the traditional pie shape to create a pumpkin pie garland.
Fall colors remind us that this time of year is time to be thankful.  Simple shapes and hand stitched letters leave us some time to spend with family and friends, for whom we are so thankful.
And turkeys, well they're just a cute way to help the garland say "give thanks" and not "givethanks."
They also give you a chance to throw in a few of your other favorite fall colors.
What are you thankful for?
Craft #5 – Fall Inspired Ombre Lamp -Â Jessica @Â Mad In Crafts
Fall's colors often get pigeonholed into the "earthy, muted, beige, and bland" category.  But as I look around my hometown this Fall, I see vibrant colors that would rival anything Summer has to offer!
I just about drove off the road the other day because I was staring at this gorgeous tree.  I am a terrible road hazard when the leaves start to change.   I drove back later to snap this photo because I knew I wanted the graduated colors to be the inspiration for my Fall Colors project.
When I got home, I dug out my paints and got my Bob Ross on, stirring paint and mixing colors to achieve an ombre palette spanning from purplish-red to verdant green.  My new IKEA table lamp was a perfect canvas for the finished colors.
Even though the inspiration for the colors came from autumn leaves, they are so lively and rich that I plan to use this lamp year-round as the nightlight in my daughter's nursery.
When the lamp is turned off, the base becomes a modern vase to hold some of those gorgeous leaves.  I adore Fall!