Poll open until Friday, August 6th at 9 pm MST. Hurry and vote!
Craft #1 – Purse – Kim
So this week is edible week.
Why am I showing you a purse? Maybe I sewed it in my kitchen? does
that count as edible? (she did say you can interpret it loosely)
Maybe that's just a little too loose.
or maybe not.
INGREDIENTS:
3 cow tail candies
3 laffy taffys
1 Box white cake
1 box fondant
1 can icing.
brown food coloring
(please note: the keys and phone are not edible…..for staging
purposes only!)
Craft #2 – Western Cowboy Birthday Cake – Carrie
We LOVE birthdays cakes around here! Every year my kids plan, design and dream of what they want their birthday cake to look like.
This cake is is perfect for a Western themed birthday party! A BBQ with pony rides, games of horse shoe, and bandana gift bags filled with treats.
This cake is so fun to make! Once you learn some of my cake decorating tricks you will be able to make your kid's birthday cake dreams come true!
Craft #3 – Little Man Tea Party – Cheri
Really.  Who says tea parties have to be just for little girls?  Welcome to our little man tea party.  I hope you're hungry.
Here is today's menu……..
…and milk in a Signature 'Stache Cup….so there's no confusion about whose cup is whose.
No pink, no frills, no drama…….just plain manly fun.
Craft #4 – Mint-Ginger Preggo Pills – Vanessa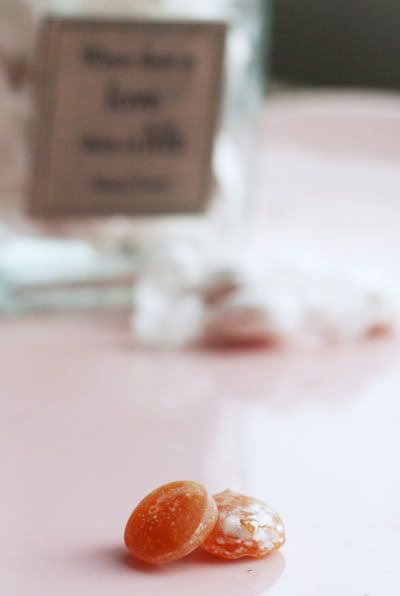 Whenever I find out a friend is newly pregnant, I always whip up a batch
of Mint-Ginger Preggo Pills in celebration of a new life and in
understanding of how rough those first few weeks can be. That first
trimester nausea is not fun at all! Luckily, both ginger and mint have
been used for ages to help calm upset stomachs. You can either eat the
hard candy plain or place a few in hot water to make a yummy tea.
Packaged in an embellished glass container, Mint-Ginger Preggo Pills are a
simple but useful way to say "Congrats on your pregnancy, hope the
vomiting lets up soon!"
I love these edible topiaries, they are so darling for any party or wedding! You can use almost any fruit or veggie and it's a darling way to show off your food The stand is totally reusable so you can use it for more than one party! These darling topiaries are shown using Grapes, Tomatoes, Strawberries, Blueberries and lettuce!
Craft #6 – Stained Glass Lollipops – Mary Beth
Project Difficulty: BEYOND EASY.  This is so easy that I almost didn't post it for fear of getting voted off, but I decided I would anyway.  Sometimes as Mom's we are looking for a last minute, easy project to do with our kids that doesn't require a whole lotta effort.  This project is super kid friendly.  And Mom's, the best part is that it has only 1 ingredient!   Yes, you read that right.  No candy thermometer required!   My boys did this with me.  They like their tie-die creations best.  You can make any shapes you like which are perfectly imperfect and ideal for little ones.  The more you do it the better they get.   We are still rookies so these may not grace the cover of Southern Living Magazine but my oldest son said "Mom, you make the coolest things" and gave me a big hug.  So for me, that was what this was all about.  And to top it off, I literally had no mess to clean up!
Craft #7 – Candy Mosaic – Emilie
What reminds us more of childhood than delicious candy in bright colors? When this week's theme was edible, I decided to make a mosaic for my children's room….using only candy.

I chose this damask pattern to match a large throw pillow, in their room where they read, with the same pattern.

Now this cool wall hanging lives on the wall above a reading nook and is a striking statement against their pale yellow walls. And it smells good too!