So here we are, the start of a new season.  I can't believe we're already to season 4!  As a little reminder, here are the ladies that will be competing this round:
Kim @Â A Girl and a Glue Gun
Tina @Â Simple. Inspired. Homemade
Emilie @Â Emilie Handmade
Vanessa @Â Tried and True
Natalia & Whitnee @Â Piece N Quilt
Kristin @Â See Mommy Sew
Heidi @Â Hello Color
Carrie @Â Tao of Craft
Cheri @Â I Am Momma – Hear Me Roar
Mary Beth @Â Addressing Spaces
This weeks theme is Dollar Store Crafts. Â The poll will be active until Friday, June 16th at 9:00pm MST so hurry and vote!
Craft #1 – Tic Tac Toe To GO
Summer brings road trips and lazy days with children always wanting something new to play. I made this Tic-Tac-Toe To Go! board for easy afternoon activities. It can be closed using the attached metal loops for twine and thrown into the car or a play bag and taken to any location for hours of fun!
What's even better? Tic-Tac-Toe is the earliest game for children which allows them to develop strategy and anticipate their opponents next move, which leads to greater critical thinking and problem solving abilities.
This game is made from two wooden grids and a package of poker chips purchased from the Dollar Tree. Total cost was $3. Using other supplies I had on hand…this project came together in no time and is sturdy enough to last through many Summers on the go! The poker chips are glued together so each piece is thick enough that it's super easy for little fingers to pick up and the entire project has a smooth surface so no one gets a scratch from unfinished wooden edges.

The kids will get hours and hours of fun from this colorful and portable game and that means you will get hours and hours without hearing, "Mom! I'm bored!" And that, my friends, is priceless.
Craft #2 – Personalized Wine Glasses
There are endless possibilities at the Dollar store. Honestly, there are.
I have been toying with the idea of painting on glass, be it cups, plates, or bowls. I love to give personalized gifts. I went to the Dollar store and walked around for 15 minutes to try and find some sort of inspiration-then I couldn't believe my eyes when I saw a whole wall of wine glass, pub glasses, water glasses, martini glasses, and even margarita glasses! Jackpot! I took that as a sign to stop looking and buy.
Being a beautiful crystal clear glass it was an open canvas. I didn't want to do my first thought because everyone would know it was me, so I went with my next favorite pattern-Paisley's! Come on-who doesn't love a paisley print. Yes, some would say you are going back in the day to the 70's, not me! They always come in fun happy colors!
This may be the simplest project ever; all you need are glasses, mine were $1 a piece, acrylic paint, and an oven. Three things…well and a little creativity. I will admit I put on about 4 coats of the lime green background mainly because I wanted a very smooth coat; the others are just one coat. The darker the colors may streak more.
A close-up of the bottom of the glass-that needs a little attention too!
Be simple or go crazy with this is quick, inexpensive and fun project-run don't walk to your Dollar store!
Craft #3 – Fashion Necklace
With my assignment in hand I headed to the 99 cents store.
I bought 1 roll of car wash towels, 1 pack of hair extensions, 1 bottle of starch, 1 Elmer's glue, and one shell heart necklace.
Here are all the sets: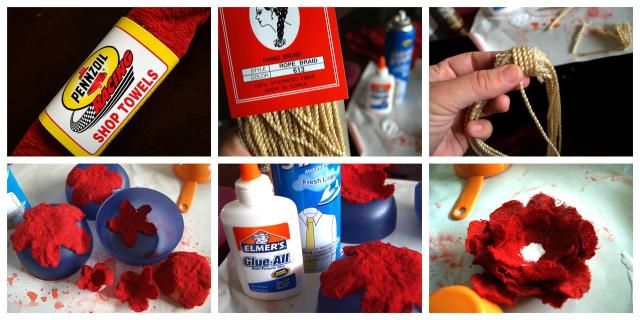 and when I was done I made this: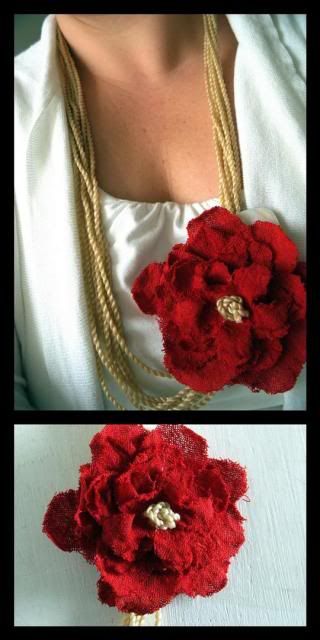 Craft #4 – Farmers Market Tote & Produce Bags

After mindlessly walking around a Dollar Store a few hundred times, I
finally decided to make something that I not only needed but would use
almost every week. Luckily, the store had some really nice kitchen towels
(except, what the heck is "sill"?) and large mesh laundry bags. A few
hours later and my Farmer's Market Tote with Produce Bags was done!


When I was choosing the fabric to make the produce bags with, it was
essential that it should be sheer. Just in case I needed to use them at
the grocery store too, you know. It makes everything so much easier when
the cashier doesn't have to open every bag to get the produce number! I
was able to make two small, one large and one long bag from each laundry
bag.


Here are some pictures of the tote details. There's a pocket in the front
to hold all the produce bags and another smaller pocket inside to hold
money or keys. If you're not using the produce bags, the tote can fold up
nicely and fit within the inside pocket.
Can't wait to give the Tote and Produce Bags a try this weekend!
Craft #5 – Magnetic Chore Bingo
Here is a great motivational tool for your little ones that was made from ugly tin artwork and glass beads from Dollar Tree.  Just select age appropriate chores and graphic images for each child, these are targeted toward two small boys.  I have a board for each child.  Create magnets with their initials and have them mark off each task they complete.  Then figure out your reward system for when they fill up the Chore Bingo Board.   Voila, a fun way to get your kids to help do their chores!
Craft #6 – Paper Flowers
Paper flowers are a great quick, fun, and cute project to display at summer party, or a center piece in your house!
Craft #7 – Bed Basket
My oldest son loves to read in bed and always has various flashlights and other knick-knacks rolling around up on his bed. I've had an idea to make him a basket to corral his stuff for a long time. So when the dollar store theme was announced, I thought this would be a good opportunity. I used a dollar store plastic basket and made a cover for it that reflects his love of cowboys.  I did reverse applique for the first time to make the lettering. The straps I made with some thick ribbon I got on a present and I used snaps so he could attach it to his bunk bed rails.
Craft #8 – Party Pom Poms
My Dollar store purchases:
.
I actually went back and got one more ball.
Total: $6 + tax.
Add glue, red spray paint, three pipe cleaners and some string.
Glued the cups to the ball
glued the pipe cleaners to the balls
tied the string through the pipe cleaners.
Hung it up
Ended up with this:
Patriotic Pom Poms!
and yes, I realize 4th of July is over. But these would be so cute as
a baby shower decoration (pink or blue of course) or any kind of party
for that matter or just hanging in the corner of your house. or you
could make the center of the ball using paper and glue and use it as a
pinata! MILLIONS of uses! and for mere pocket change!
Craft # 9 – Onesie Dress
On my little visit to the dollar store I found out they sell onesies there!  Who knew?  I grabbed a cute pink one and then I also picked up 2 dishtowels.
I embellished the onesie with some extra scraps I had around the house.  Then I sewed the dishtowels into this little skirt.  The best part?  I used the existing edges on the towels and didn't have to hem anything.  It was a pretty quick project.
Total cost?  $3.
Now if only I could make one in my size for that price.
Craft #10 – Fairy Toad Stools
While walking through the woods today we stumbled upon a Fairy Tea Party!
While walking through the Dollar Store a few days before, I stumbled upon plain wood stools. I immediately knew that I wanted to make something with these..Should I paint them? maybe decoupage?
No! I realized that these were not just stools…
These were meant to be TOADSTOOLS!!!
I "picked" these toadstools from all natural materials…Â then we were ready for our tea party!