*Tutorial by ChiWei @ One Dog Woof for her win of the Thrift Store challenge of Season 12*
I've seen a lot of crocheted and woven and braided rugs out on the internet; it was even one of the first things I pinned to Pinterest, but I never got around to trying one of my own until now.  I always thought it was going to be difficult, but actually, it's really quite easy, and no fancy instructions needed!
Step 1.  Acquire fabric.  In this case, I used XXL men's t-shirts from Goodwill.  Choose t-shirts that are mostly or 100% cotton, and have no or very little print on them, preferably, only above the arm line.  You'll also want the fabric weight to be fairly consistent, so don't try to pair up a Hanes t-shirt with a paper thin cotton shirt from BR.
Step 2. Create your yarn.  There are oodles of t-shirt yarn tutorials out on the internet.  Feel free to choose any one of them, or try
this one
on for size.  The basic idea is that the shirt is already in the round, so you're cutting a continuous strip from the bottom hem up to the armpit.  Actually, remove the hem before cutting – it doesn't curl well (or, at all). Once you have the big strip, stretch the strip and allow the knit in the t-shirt to curl in on itself, thus creating the yarn.
Step 3. Ball up your yarn.  This is actually pretty important, but once I started to crochet, I realized I twisted the yarn as I balled it, so there was a lot of tension.  I ended up unraveling the whole darn thing before crocheting, which kind of defeats the purpose of balling it up in the first place.  C'est la vie.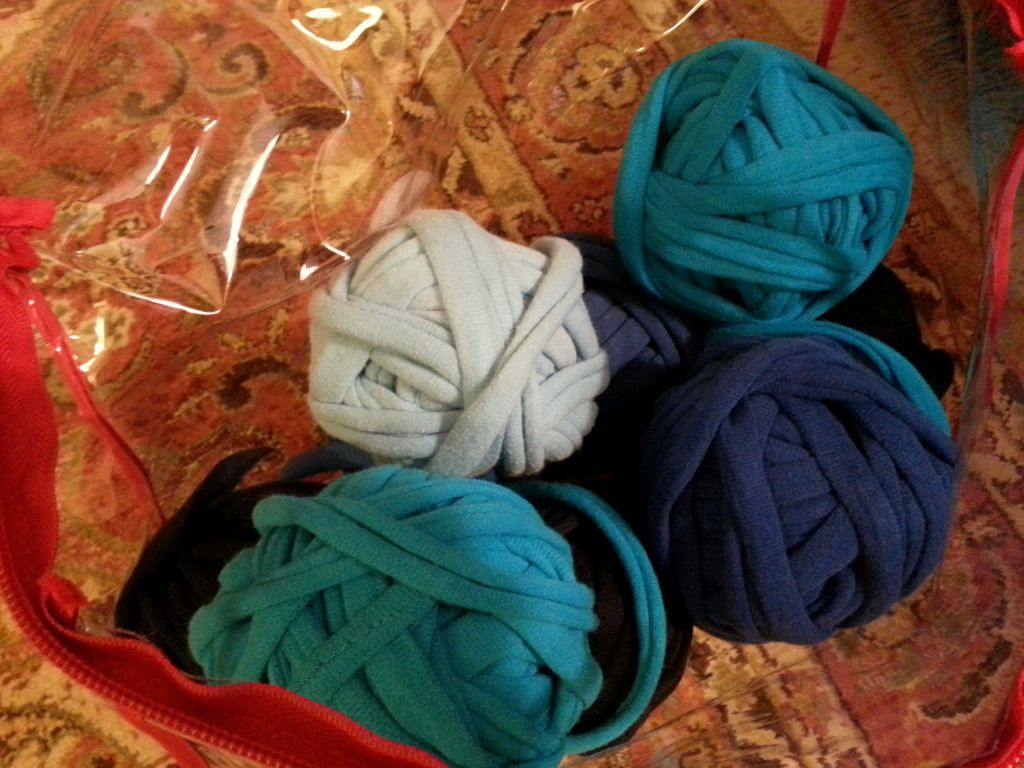 Step 4. Crochet.  I used a single crochet here for a dense weave.  I don't know the name of the method I use, but I twist the yarn onto my hook, chain 2, then SC my first round.  You can also start with a magic circle, or any other method to start crocheting in the round.  For an crash course in crochet, start
here
with my lovely friend Rachel!
I started with 6 SC in the first round, doubled it to 12 in the second round, and slowly increased beyond that.  In retrospect, I think I should have started with 4, doubled to 8, and then actually counted my way around.
1st round: 4 SC
2nd round: 2 SC in each stitch (8 stitches)
3rd round: *1 SC in next stitch, 2 SC in next stitch, repeat from * (12 stitches)
4th round: * 1 SC in next 2 stitches, 2 SC in next stitch, repeat form * (16 stitches) and so on.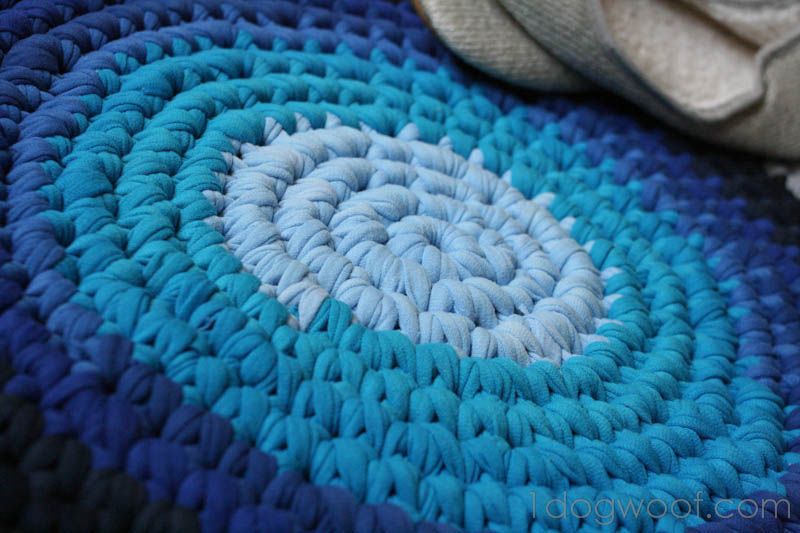 Or, you can be like me and just make it up as you go, increasing as necessary to keep the piece flat.  If the work is curling up, you need more stitches in the round.  If the work is ruffling, you can either take it apart and not increase as many stitches, or do a round with no increases, sort of to bound the problem.  I also tried to alternate where I made the increases so as to keep a circle shape.  I've noticed that if I increase in the same spot each round, I end up with a polygon instead of a circle because of the budge that extra stitch makes.
When you've come to your desired size, or to the end of your t-shirt stockpile, pull the end through the last loop and pull tight.  Then weave in your ends.
Sorry this isn't a very detailed tutorial, nor is it a class on crochet.  My mind wasn't really focused last week due to some family issues and this was an easy mind-numbing project!