We're here!!ear celebration! Â I hope you all had a great weekend and new year celebration! Â What better way to kick off a new year, than with a new season of So You Think You're Crafty? Â I'm so excited for all of us to learn more about the 10 ladies we have competing this season. Â Here's a little reminder of who we'll get to see over the next 10-ish weeks.
Lisa @ Crafting My Way Through Life
Becky @ Corduroys Closet
Melissa @ Sew Like My Mom
Meredith @ My Magic Mom
Ashlee @ I'm Topsy Turvy
Emily @ Industrious Emily
Amy @ Positively Splendid
Mandy @ Mandipidy
Nicole @ Cole's Corner & Creations
Elle @ The Crazy Gecko
Be sure to check out their blogs. Â They've got some great stuff on there from before the season, and I'm sure they'll be doing other things than SYTYC so you won't want to miss anything!
One more things before I show you the projects.  SYTYC is going to be hosting a Linky Party every Friday! Now you get to play along and try your hand at the weekly challenges!  But don't worry.  You don't have to have made the project during the time frame of the challenge and you can link up any project you've made using SYTYC as inspiration.  Get excited for it…it's going to be great!
Now Challenge #1 of Season 6. It's one of my favorites so I wanted to get everyone in on the action…Thrift Store!
Poll is open until 9 pm MST on Friday, Jan 7th.
Craft #1 – Sweet Window Seat – Melissa @ Sew Like My Mom
I was a little stumped with this first challenge. I wandered through my favorite thrift shops a few times without any divine inspiration, starting to feel a little overwhelmed. But on my last sweep through the store I spotted this wooden tv cabinet. It was on it's side, very dirty, and bargain priced at $14. I immediately saw it as a pink window seat in my little girl's bedroom.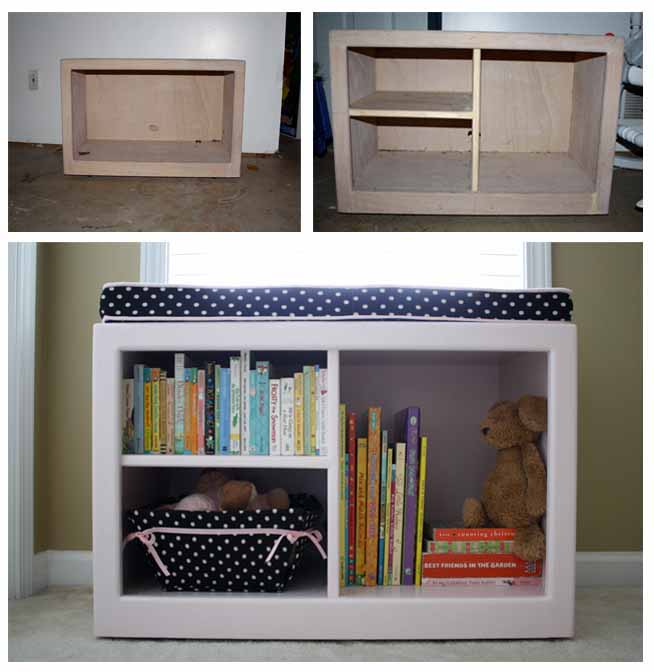 I decided the big space needed to be broken up with some shelves to hold all her treasured books and playthings. Other than the pink paint, the rest of the materials for the seat cushion and basket I had on hand.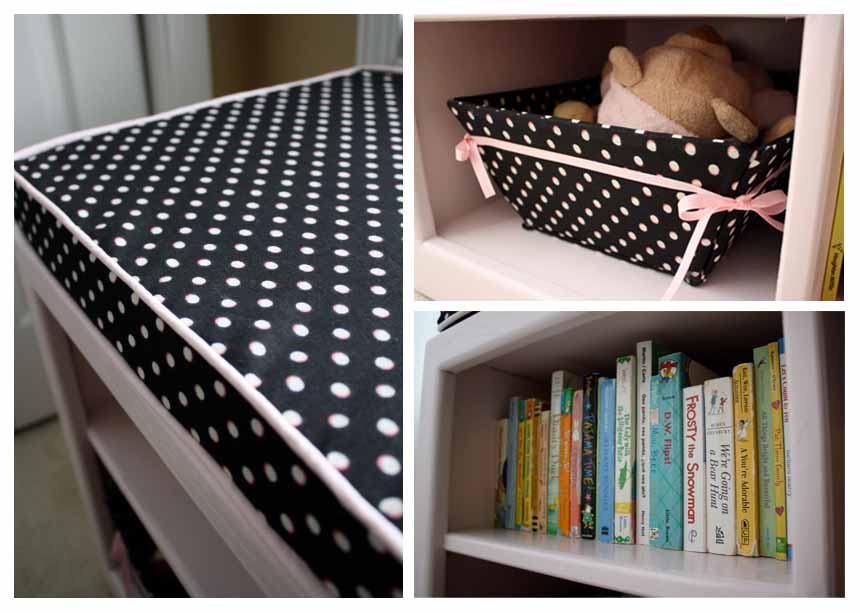 We're redecorating her room from baby to big girl, and this sweet window seat is the first stop in the transformation. I'm absolutely ticked about the way it came out, and I think it's safe to say she is, too!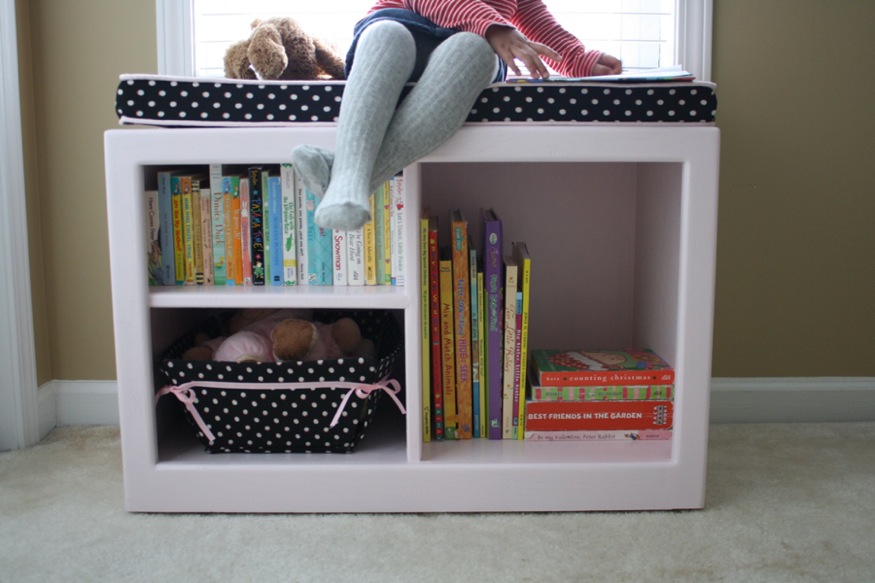 Craft #2 – Felted Wool Flower Scarf – Amy @ Positively Splendid
While I was out Christmas shopping last week, I saw a woman standing in line who was wearing one of the most unique scarves I've seen in a long while: a pieced series of funky flowers that looked to be made of felted wool. I immediately fell in love with it, and I knew I would have to try my hand at creating my own version.
I love the look and feel of wool felt, but it can sometimes be hard to come by, and it tends to be rather pricey. To make this particular scarf, though, I knew no other medium would do. Did you know that you can easily create your own wool felt for pennies on the dollar? That is exactly what I did here, using a few clothing items I found on the 99-cent rack at my local thrift store. I would love to share with you exactly how I did it. And for the sewing novices out there, you'll be thrilled to hear that if you can cut circles and tie knots, you have all the skills required to tackle this project!
You might also be delighted to hear this scarf is as perfect to punch up your winter wardrobe as it is to communicate a fun little message. 🙂
#3 – Vanity on the Go – Becky @ Corduroy Closet
If you are like me then you LOVE old suitcases!
And there are so many possibilities to use them for.
I like to use mine for storage and for this challenge I thought I would personalize the space inside.
This little vanity on the go has everything a little girl needs to beautify herself. The top has Velcro ribbon to hang necklaces, bracelets, sunglasses and anything else to adorn herself with. There is also a little pocket for little make-up to fit inside.
The bottom half has elastic straps sized perfectly for each piece to fit inside and stay perfectly organized.
And just in case you would rather keep this all to yourself
You can!
This is perfect for you things as well! Take it on the go or just keep it out on your counter tops!
Wouldn't this be so cute to have match box cars lined up in? Or some star wars figurines? The possibilities are endless!
#4 – Â Pillow Refashioning – Ashlee @ I'm Topsy Turvy
I was so excited for this weeks craft! I love finding treasures at thrift stores and this was the perfect excuse to go check multiple stores out. I actually went with about 8 different craft options in mind. I thought it would be hard narrowing down which one I wanted to do. But then I found this fuzzy green sweater, and then a striped sweater that were the PERFECT SHADES to match my paint/tile/backsplash/fireplace in my great room (living room, dining room and kitchen all connected). With the addition of some satin sheets, a large denim dress and a bed skirt ALSO in the perfect shades I knew just what I was going to do… pillows!!! So I also grabbed some cheap pillows from their stock instead of expensive pillow forms and brought it all home!


I have been looking at pillows all over the internet for quite some time, so I already had a huge collection of ideas I wanted to try. Since I've never had pillows for my couch I had room for quite a few! I went with 6, although I have 3 more pillow forms and 3 more ideas… I had grand plans to finish all 9, but it's been an interesting holiday season for us, so 6 is it for now!!! I am seriously in love with them all.


I love how easy it is to personalize, and how well the fabrics work with each design. But they could also each be made with other fabrics and mediums. And the total cost? $12 for all 6 pillows and another $9 for all the "fabric" so $21 total! My husband was in love with that! And the great thing about using stuff like sheets and bed skirts? There is lots of extra fabric if you mess up (not that I did that!)!!


They do look a bit crowded on the couch maybe… It's our only couch, with lots of kids and family around. We tend to lounge around on the floor with blankets for movie night, so the pillows will always be in use somewhere! And while I can't show you how well it matches with the rest of my room coloring (anonymity) when this week is over you'll just have to come over and SEE how perfectly it matches, INSANE perfectly. I couldn't be more excited! The kids and husband love them so that's icing on the cake!


When you stop by the local thrift store, hit your neighborhood garage sale, or find yourself browsing the as-is section of your favorite store you're sure to find old dusty, worn out milk crates or similar containers and you will always find ripped, stained, or simply discarded linens of some type.


Colorful bins and liners can be made to match any decor and blend into any room of the house. Anything from toys in the kids room to books in the living room. Supplies in the laundry room to extra towels in the bathroom. The possibilities are endless.
Gather your supplies at the thrift store for a fraction of the cost you would spend somewhere else and you can have a set for every place you need storage. Put them on a shelf, stack them up high on top of each other, or line them along a wall for easy toddler access. Just be sure to make each bin its own label so everyone knows where things go when it's time to clean up!
No need for these tables to hit
the trash they just need a little love:
So technically this was a rummage sale find. I hope that is
alright. This summer I was looking for a small table for a small
space. I really liked the idea of nesting tables so I could have more
space if I needed it, but didn't want to spend a lot of money as the
table would seldom be used. These are originally Ikea nesting tables
and I think there is supposed to be a third one. When I came across
them there were only two. They were a couple of bucks and slightly
beat up, but I figured I could paint them or something. So the before
picture is in fact that, my bad attempt at painting them. They started
out white and you'll notice the chipping. I thought that spray paint
for plastic would work on laminated particle board and well it didn't.
So it was back to the drawing board or send them to the alley for
someone else to try to love.
Here is what I came up with:
Want to know how I did it? You'll have to vote for
mine!
#7 – An Odd Little Stall – Elle @ The Crazy Gecko
After trawling several pre-Christmas Thrift stores I was really disappointed with what I could find! So I decided to set myself a REAL challenge and just throw a few bits in the cart to the value of the loose change in my pocket and see what I could do with it!
So I bought a handful of plastic storage baskets, a couple of old tea towels and a somewhat odd vase arrangement thing  (No I don't know either!) And then I instantly regretted it!! What am I gonna make with that .. so I really did fancy a challenge!
After hours of staring hard at my pile of … ahem… interesting objects it suddenly hit me … is it not obvious … I'll turn them into a shop!
Using the smaller baskets to hold fruit and veg and adding handles, made from some of the 'odd' arrangement, to a larger basket to hold all your groceries.
To shade our little stall holder from the sun I used one of the tea towels and some more of the 'odd arangement' to make a canopy and of cause the obligatory stall holders apron to put all your pennies in.
The rest of the shop was made from things that you just have around your normal crafty home …no really!
And can be made in a single morning … no seriously!
And best of all it costs next to nothing!
Kerching!!!
#8 – Book Cover Wall Art – Mandy @ Mandipidy
My husband and I love books.
He loves to read them…
and I love to decorate with them!
Most recently, I refashioned some old books into wall art:
Since this week's theme was "Thrift Store Finds" I thought it would be fun to get the most hideous thing I could find at Goodwill and transform it.
This is what I found:
Ugly, right?
And it was on sale… cost me $2.00.
I also found some old hardcover books…
Each of these were also on sale and cost a dollar or less:
I painted over the crazy duck picture,
painted and distressed the frame,
and used an exacto knife to remove the pages from the books
[don't be too alarmed…
there was a reason that these books ended up at Goodwill!]
Using Mod Podge, I secured the book covers to the front of the picture:
Right now I'm enjoying how it looks displayed on the mantel, but one day I think it would be a lovely addition to a home library or office if we ever have one.
#9 – Cloche Hat – Meredith @ My Magic Mom
Shopping at a thrift store can be hit or miss for sure. As I wandered through several stores, I came up with nothing. No ideas and zero inspiration. So, I went home and put on my thinking cap and came up with the idea to make a hat. I headed back to the store with this project in mind. I found the perfect sportcoat for my cloche hat. I've always thought this style hat was cute and this one created from a sports coat definitely speaks to my inner flapper.
After felting the coat, I stitched the hat using my own sewing pattern. It still needed something though. I decided to add a ribbon band and make a fabric flower to spiffy up the cloche.
I think this hat is the bee's knees. Now I'm all ready to put on my hat-ski, go grab a bell bottom and head down to the local speakeasy for some giggle water.
This week's challenge was a 'Make it work!' moment for me.
I must admit, I'm not much of a thrifter and I felt thrown into an episode of Project Runway. (One of my favorite shows!)
It was fun to browse thru the old clothes and find inspiration in the fabrics and notions.
That's how I came up with this Kate Spade knock-off for my little fashionista.
This dress could easily be made into an adult garment as well.(My cousin is impatiently awaiting her knock off!)
Old or young, you can't go wrong with these pockets.
With a soft knit on top and warm sweater knit on the bottom- it's stylish, comfortable, and easy to care for. A must for any active kid!
The big offset bow and exposed zipper in the back make a big fashion statement!
Easy to make and easy to wear, this dress is a winner!